If there is one thing I know for sure – it's that food has the incredible power of bringing people together; opening their minds, hearts and of course taste-buds.
During the March Melbourne Food & Wine Festival, I had the absolute pleasure of attending an event that did just that – and so much more. The 'Taste of Asia' was an event like no other – not only for it's amazing dishes, decor and entertainment, but for its collaborative approach and community driven goals.
The Asian-fusion event was held at South Melbourne's breathtakingly beautiful Luminare and was hosted by comedians, Nathan Earl and Chris Taylor.
While guests were blown away by the views and bright coloured florals around them, the medley of chefs put together a sharing-style menu that took us on a journey through Asia, without having to travel far at all – as only the best food can.
I was so excited to have the opportunity to have a chat with the collaborators involved in this astonishing event – as we covered all things food, community and the secrets behind putting together such an incredible night.
Starting with…
Bruce Keebaugh, Co-Founder and Director, The Big Group
The Big Group is renowned for its amazing innovations within the hospitality industry, how do you always manage to keep getting better and better?
The impact of social media and its influencers has created such great content and conversation for business globally. In the past creativity and innovation within the events and styling arenas was sort via travel, whereas now we have the opportunity to see the best of world producers on our phones, we almost have a content overload.
From the runway parades of Paris and Milan, film, design and art we are constantly visually aroused.
The key today however is really about the originality and integrity piece, creating content that is fresh, new and curated to your clients marketing brief or for a private individuals dreams and desires.
This is the arena where collaboration with artists nationally and internationally allows us to provide opportunity but to elevate our hospitality concepts to new realms. The Big Group is very fortunate to work extensively internationally and its often the breath of these mega events that allows us to waterfall innovation and creativity into other markets locally.
The visionaries behind the event 'Roll'd'…
How excited were you to see all these chefs come together to create such a taste sensation event? What are some of your favourite dishes from the night? 
Taste of Asia was a concept that was a year in the making so I was very excited to see it all come to fruition.
There were lots of different elements at play with our various partners, the fabulous styling from The Style Co and the different restaurants involved. There were so many delicious dishes, it's so hard to choose! The nori crisps from Saké were delicious and I can't go past the roasted yellow duck curry from Coda- Adam D'Sylva is a genius..
It is so amazing to see this event supporting the Blue Dragon Children's Foundation – how did that partnership come about? 
Mama's Bưởi and Roll'd have been working closely with Blue Dragon Children's Foundation for many years now.
Roll'd Co-Founder and CEO, Bao Hoang's family escaped Vietnam by boat.
Since then, giving back to the Vietnamese community has always been of utmost importance and sits at the heart of the Roll'd brand.
Last year, Roll'd funded the construction of a Blue Dragon boarding house which has allowed approximately 180 children to receive an education and a second boarding house is on the way.
When the concept of Taste of Asia was discussed it was a no brainer that the evening should support Blue Dragon.
What was the collaborative process behind the menu? The inspiration? The flavours you wanted the guests to experience?
Firstly, it was important to have a variety of Asian cuisines. Coda and Mama's Bưởi take inspiration from traditional Vietnamese cooking, whereas Lucy Liu and Spice Temple are more Chinese influenced, and Saké is delicious Japanese cuisine.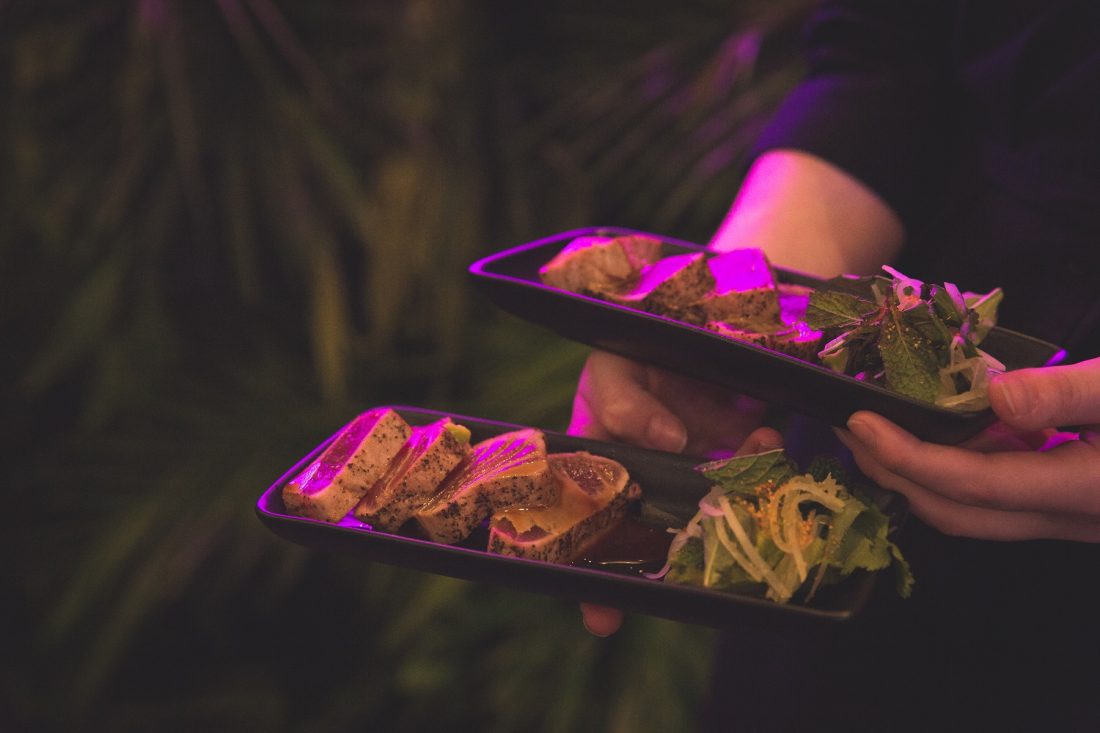 Consolidating the menu was an organic process. We asked each restaurant to submit two to three dishes that they felt showcased their food. We were very lucky that the dishes worked well together and we had a perfect balance between canapes, entrée, main and dessert.
What an extraordinary concept to come up with for the Melbourne Food & Wine Festival, how did the idea come about?
We are so spoilt here in Melbourne to live in one of the best food cities in the world.
The Melbourne Food and Wine festival is one of the most exciting times of the year here so we wanted to get involved.
I obviously love Asian inspired restaurants (working with Roll'd which has close to 70 Roll'd stores and five Mama's Bưởi restaurants nationwide) and so I suppose the thinking behind it was, "wouldn't it be amazing to get our favourite Asian restaurants in the same room together for a great cause!"
What are your biggest highlights from this event?
I loved how the room looked, The Style Co did an amazing job. The evening wouldn't have been the same without Nathan Earl and Chris Taylor as MCs.
They are from a great wine TV show called 'Plonk' but are also widely known from the hilarious ABC TV show 'The Chaser'. Basically the evening was an accumulation of my three favorite things- great food, great wine, great people.
And of course I had to chat to Food Directors Jonathan about the food that had us all bursting with excitement…
How exciting is it to be collaborating all together on such an amazing event.
A tremendously talented & fun team to work with, this event was a great success due to the hard work and great experience of a very committed & organised team.
Some of the Chefs I have known for 20 years & are cooking very impressive food!!
What does the Melbourne Food & Wine festival mean to you?
A incredible event of such great culinary cultural significance, which celebrate why Melbourne is possibly the finest Food & Wine & culturally diverse city in the world.
What dish is the most exciting to be presenting and why?
The stand out dish of this amazing menu was definitely the "Vietnamese Buttered Quail" a very authentic Vietnamese dish served on our menu at Mama's Bưởi restaurant @ Chadstone.
We source the finest local "Milawa' Quail, the feedback was great from our guests, my fellow Chefs & T.V Studio 10 in Sydney, where I prepared this dish in promoting "A taste of Asia" dinner in February.
Fresh herbs, Vietnamese mint, lemon Verbena, spearmint, work really well with crispy texture of the Quail & salty soy, infused with Mulberry vinegar & served with a pickled carrot relish.
Visually a stunning dish as well being very appertising.
What is your approach to food in 3 words?
Fresh – Local – Sustainable