Well it's that time of year again – decorated trees, colourful lights, Mariah Carey and Michael Bublé playing on repeat and of course the challenge of finding the perfect gift.
From the most stylish to the most delicious and some of the best experiences around – I've got you covered.
So here's my pick for the best gifts this Christmas …
For the Fashionista
When impressing the quintessential fashionista – it's all about style darling.
From the luxurious, to the sparkling, to the girl who travels in style and treasures books with glamour – we've covered all the bases.
The gorgeous accessories from TDE are on the wish list of every fashionista, from the must have bag in the hottest summer shade to the sleekest sunglasses case – this is the perfect combination of stylish and personal.
Lilac Mini Bucket Bag
Price: $189.95
Pale Pink Glasses Case
Price: $79.95
I don't know about you but I love beautiful, luxurious sleepwear and this range from PHINE is absolute perfection for every fashionista.
(left to right)
EMPIRE Lace PJ Set
Price: $34.99
EMPIRE Collar PJ Set
Price: $44.95
From me to You By Elyse Knowles
Fashionista Elyse Knowles released a beautiful book that has already topped the Best Seller list. Covering health, happiness, confidence, careers, travel and of course fashion & beauty it's a must have on your shelf this Christmas.
Price: $22.50
Whether she's into yoga, pilates, walking or the gym – these beautiful pieces will have her looking stylish from the workout, to the latte afterwards.
JAGGAD Akuro Crew Neck Sweater
Price: $89.95
JAGGAD Camouflage 7/8 Panel Tights
Price: $139.95
The Check Black is redefining the airport and fashion runway! Getaway with this stunning black carry on luggage case ideal for on board travel or in the boot of your car for an overnight stay or weekend getaway.
Check Black Carry on 
Price: $289
Blinged
As seen in Vogue.com.au this Blinged belt bag also converts to a clutch, was voted "best street style' at Melbourne Cup.
Available in: velvet – Fuchsia Pink, teal, electric blue and pomegranate.
Vegan leather: black, white, pink and red
Price: from $125-$295
www.blingedofficial.myshopify.com
And for the very stylish munchkins these purses are absolutely divine, fashionable and functional- with the perfect touch of bling.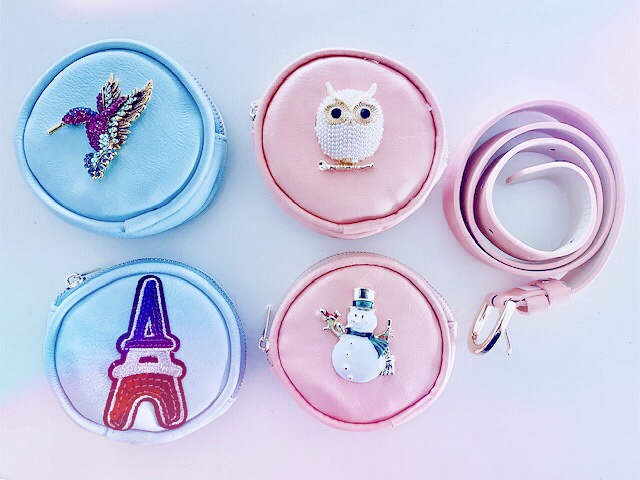 Price: $59
www.blingedofficial.myshopify.com
For private showings and enquires contact Victoria 0438700230
These beautiful and unique wall art prints are a must have for every home, with a range of styles, they make for the perfect gift.
(from left to right)
Fleur wall art print
Regular price: from $10.00
Velvet wall art print
Regular price: from $10.00
Coffees & style followers are treated to a special 35% off – Using the code: xmas
For the Foodie
What does it take to satisfy a true foodie?
Well to start… delicious wine, an amazing cooking experience, a culinary journey through some delicious recipes to enjoy in your own home and of course a dining experience at some of Melbourne's favourite foodie destinations.
For the quintessential foodie it has to be the best of the best – with that little extra.
From smooth Pinot Noir to a crisp and delightful Pinot Gris this range is a foodie's delight – trust me.
6Ft6 Pinot Noir
Prince: $25
6Ft6 Pinot Gris
Price: $25
Give the gift of a memorable dining experience to your friends or loved ones this season, with a gift voucher for iconic Stokehouse St Kilda Beach. Treat someone special to something special: contemporary Australian fare from
Head Chef Ollie Hansford's locally-sourced, produce-driven menu paired with pours from Stokehouse's award-winning wine list, set in stunning interiors with uninterrupted views across Port Phillip Bay to Melbourne's ever-changing city skyline.
Address: St Kilda Beach – 30 Jacka Blvd, St Kilda
Place the gift of classic Argentinian flavours under the tree this festive season, with gift vouchers from San Telmo, Melbourne's godfather of Argentinian cuisine.
Give the steak lover in your life an evening of premium cuts of O'Connor's beef, straight from the charcoal parrilla grill, with Pisco Sours and venue-exclusive imported Argentinian wines.
Address: 14 Meyers Pl, Melbourne
The Broadsheet Italian Cookbook
The Broadsheet Italian Cookbook features 80 essential recipes from Australia's best restaurants, cafes and bars, forming the definitive guide to contemporary Italian-Australian dining in all its forms.
Broadsheet Italian Cookbook
Price: $49.95
https://shop.broadsheet.com.au/
It does't get better than learning how to make pizza from the man who created an award wining pizza, this delicious experience is a foodie delight, and will be one to remember.
But it doesn't stop there for 400 Gradi – from December 10th this beautiful Italian restaurant will be running daily giveaways on their Instagram page, so keep an eye out.
There's nothing like a gorgeous cheese board to serve for those delicious delights and the range from Robert Gordon is perfection.
Cheese Board
Price: $39.95
I absolutely love beautiful and unique wine glasses, these glasses from Gift Boutique are just gorgeous, and the perfect pairing to that special bottle of wine.
Gift Boutique | Set of 2 Diamond Glasses
Price: $41.48
For the Boss
Buying a Christmas gift for your boss can be tricky, it's all about the right balance between being appropriate and thoughtful.
But that doesn't mean you can't add little creativity and a whole lot of style – after all it's all about making a good impression.
Here's a list that is sure to impress ….
Whether you choose one of their carefully crafted sets, or create your own, there's no doubt these stylish and delicious gifts will impress any boss.
Whisky Box set
Price: $175
Example of a custom box set
Price: $184
Find a similar box or work with the team to create our own – www.palmncoliving.com.au
These beautiful handmade notebook can be used as a sketchbook, journal or notebook. With 128 pages of 140gsm paper, it is great for sketching, drawing, doodling and ink creations.
Traditional Notebook
Price: $40.95
The Adventure Japanese-bound journal with 100 pages of 100% recycled paper, is great for drawing, calligraphy and doodling. Hand-made with love using local and ethically sourced materials.
Adventure A5 Japanese Bound Journal
Price: $22.95
Social enterprise STREAT provides gifting you can feel good about this Christmas, with each purchase supporting young people in need of a hand. Each product is full of flavour and beautifully packaged, ideal for corporate gifting.
Price: from $12
For the boss who travels in style this gorgeous garment back from JOURNEY is perfection.
Garment Bags
Price: $179
Offering the most extensive range of cuvées in the country, from Veuve Clicquot and Dom Perignon to more boutique producers, and a selection of exclusive brands direct from the Champagne region in France.
Emperor Champagne Gift Pack
Price: From $125
Make it personal and add all his favourtie things in one special box!
The Ultimate Christmas
For your Partner in crime
Whether for her, for him or a gift for you to share together, a Christmas gift for your partner in crime should always be memorable.
From the sexy, to the stylish, the very exciting and ever so relaxing – you are sure to find something they love.
Marc Bale Watches
Whether you prefer gold, rose gold or silver – these beautiful unisex timepieces feature a minimalist and versatile design and are the perfect gift for every taste and style.
For Him:
Price: $179
For Her:
Price: $179
Shaken Cocktail Kit (Copper)
Shaken Cocktail Kits give you all the bar tools you need to make great cocktails at home using the shaking technique.
Available in Stainless Steel or Copper.
Price: $94.99
RCR Crystal Cocktail Tumblers Set
A stylish set of four crystal glasses, perfect for serving cocktails that call for an Old Fashioned tumbler or Rocks glass.
Price: $39.95
The 18ct white gold diamond star pendant and earrings is the perfect gift for that very special someone in your life.
ANTON Initial Icon Collection
Price: $995 each
FORMULA 1® ROLEX AUSTRALIAN GRAND PRIX 2019
The 2019 Grand Prix is set to be spectacular with the very best in car racing, hospitality and style. Whether a boys day out or an event to enjoy together – it's the perfect Christmas present.
Date: 14-17 March 2019
Price: From $ 64.28
For the girl with exquisite style this lace jumpsuit is absolute perfection.
TRANCE Lace Intimate Jumpsuit
Price: $29.95
Give the gift of a staycation this Christmas with an Adelphi Hotel's gift voucher, valid in the hotel as well as their signature restaurant Om Nom Kitchen – it will be the sweetest Christmas yet.
Adelphi Hotel staycation
187 Flinders Lane, Melbourne 3000
Call: (03) 8080 8888 to purchase.
Luxurious soft dressing gown, made of beautiful coral fleece – its super soft, beautiful to wear, and made even more special with that personalised touch.

Varsity Robe
Price: $99.95
For him
For her
For the Parents
Whether it's your parents or in-laws, buying them the perfect gift that they wont re-gift or return can be challenging (we've all been there!).
I find the best gift for parents are gifts they can continue to enjoy or an experience where they can sit back, relax and not have to think about a thing.
A night at the theatre
Make it a whole family experience with Charlie and the Chocolate Factory  The spectacular new musical Roald Dahl's Charlie and the Chocolate Factory is coming to Australia and will be playing only in Sydney
Sydney – Charlie and the Chocolate Factory
Price: From $59.90
Tim Rice and Andrew Lloyd Webber's EVITA is Melbourne's Summer Musical in 2018-9. One of the most celebrated musicals of all time, the original West End and Broadway production directed by Hal Prince.
Melbourne – Evita
Price: from $99
Give a moment of relaxation this Christmas by gifting them more time to unwind and connect, more time to relax and revitalise, or even take mum on a very special girls trip – she'll love you for it.
While there are plenty of amazing packages – my pick would be:
The massage and bathe for two
Price: $390
VITTORIA Coffee Capino Black capsule machine 
Coffee is always a good idea – perfect coffee is always a great gift.
The Capino is available in matte black and delivers cafe-quality espressos seamlessly for everyday use.
Price: $99
Baccarat® and  HOUSE 
THE EGG™ is individually hand-crafted in a stunning egg-shaped stainless-steel shell. It includes six lightweight Japanese steel professional-quality Baccarat® iD3 knives, which come with a lifetime guarantee.
THE EGG™
Price: $999.99
Build your own Australian Made dinner set with individual place settings, made to order from High-Fired Stoneware, just for you.
Terra Place setting
Price: $120
Village cinemas Gold Class tickets
A trip to the movies is made the much more special with it's with Gold Class, so why not give your parents a night to remember.
Gold Class Experience
Price: $159
(Inc. 2 x Gold Class Admissions, Pick 5 Menu: choose any 5 items from our delicious seasonal menu, 2 x Glasses of Wine, $0 postage / instant delivery)
www.shop.villagecinemas.com.au
Kris Kringle
Whether at the office, with your family or among your group of friends, we've all been faced with the question – What do I get my Kris Kringle?
These gifts can range from the cheeky to the personal, and of course my favourite – the stylish.
So when you pull a name out of a hat this year – Don't panic! I've got you covered.
The must have accessory for every fashionista – this gorgeous customised phone case makes for the perfect Kris Kringle gift.
The Daily Edited, iPhone Cases
Price: From $49.95
Timeless, seamless, and shatterproof – the key components of the product provide a degree of elegance and practicality to enhance the style and substance of your lifestyle. Available in white, black for a limited time red – perfect for Christmas.
STTOKE Ceramic Reusable Cup
Price: $39.95
Collection of luxury soy wax candles will ignite your sense of adventure and take you to destinations from the furthest corners of the earth.
Soy Wax Candles
Gift size price: $29.00
Classic price: $49.00
As easy as A B C – single initial charms combine to make your own monogram, kids initials or just a fun collection. Distinctive personalised charm necklace
Initial Charm Necklace
Price: $39.95
This is the coolest towel on the beach – and its made just for you. Our new oversized Varsity Beach Towel, perfect for sharing or beach picnics.
Varsity Beach Towel
Price: $79.95
Luxury Belgian chocolatier, GODIVA, is available Australia-wide to those on the hunt for a decadent gift this Christmas.
Price: From $24.90