Late last year that I was casually walking through Church street Brighton, a street I know far too well – an suddenly I saw the sign… 'Hellenic Republic to open this summer'.
Like a child counting down to Christmas morning I waited patiently, until the day finally arrived when George Calombaris' Hellenic Republic finally opened its doors in Brighton and once they did, the vibe became infectious.
Of course, Hellenic needs no introduction to Melbourne's food scene, having already secured successful ventures in Brunswick East, Kew and Williamstown.
But there's no sense that it's a repetition of the same winning formula, in fact if you didn't know otherwise, you would say that the restaurant was created specifically for the Bayside suburb it now calls home.
From the décor to the food there's nothing not to love.
Not only has the restaurant embodied the bay surroundings, but it has created breath of fresh air, and judging by masses that continue to dine day after day – there's no showing of a slowdown.
In terms of flavour, you just have to take one bite and close your eyes  – immediately you feel like you're being transported to Greece, sitting around the table of the warmest most inviting home.
The famous Saganaki, is a famous for a reason, the seafood is divine – and what I have come to really love  is the unique, interesting and flavoursome ways Hellenic has approached vegetables.
I had the absolute pleasure and delight of sitting down with Alex Xinis, Head Chef at Hellenic Republic – and discuss  all things food, inspiration and what has made this venture such a success.
What made you decide to open up a Hellenic Republic in Brighton?
The general thesis of the MAdE Establishment Group is to centre Gazi in the city – and have the four Hellenics around the centre in all the different corners.
The area really suits the Hellenic approach, being Bayside, the Mediterranean vibe fits right in.
We bring simple, good food, and that's what people want.
Is the menu different to the other restaurants, how?
We've always been about keeping it seasonal and local, the menu in Brighton is different, and very much has a seafood focus – which sets it apart at the moment.
While there will always be different tweaks for each of the restaurants, the other Hellenic venues will be coming into line with a similar style,
What inspires the Hellenic menu?
Working with George and his approach is the biggest inspiration!
I have worked in fine dining, I've done molecular gastronomy – at the end of the day it comes down to just really good food.
George has an ethos around a Mediterranean diet, Ikaria, being one of the five blue zones, where people eat from the land, eat in season – and they sleep a lot as well ?
There's a great focus on health.
During lunch service we have the Hellenic Health 4:1 approach; 4-part vegetables, and 1-part protein, which has been received very well and really suits the area.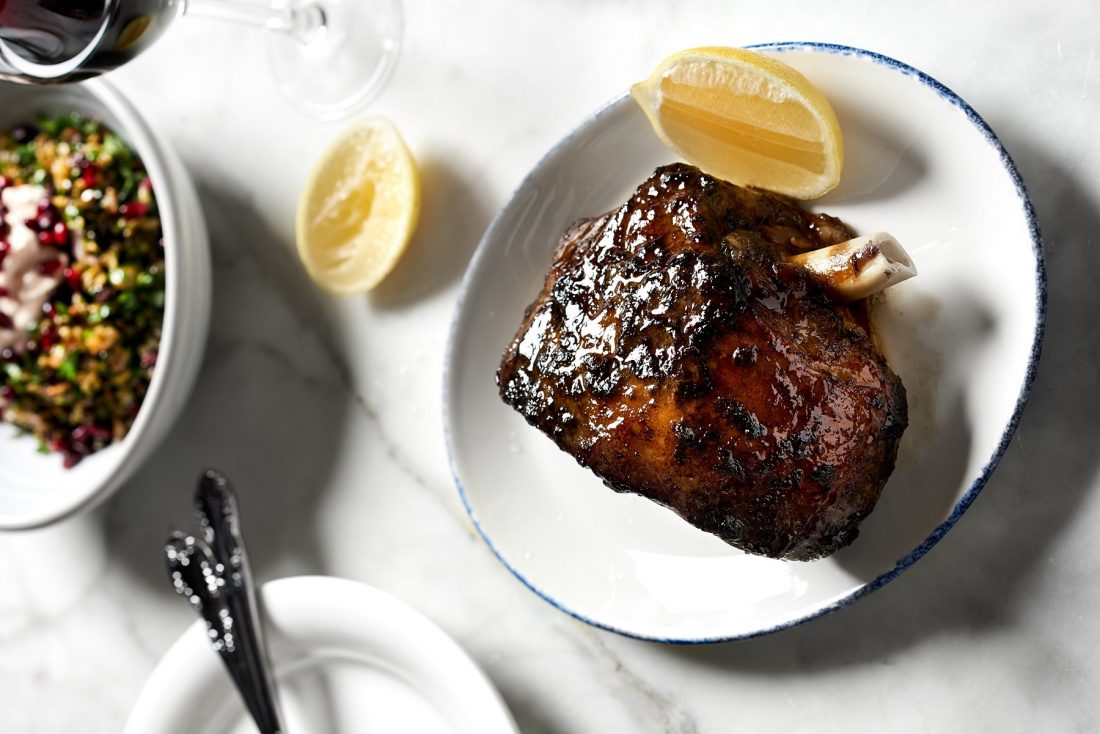 While there will always be the Hellenic classics like the saganaki and grain salad, the menu has been trimmed back – sticking to traditional, but focusing on seasonal items.
We've just produced beautiful grilled peppers served with white anchovies and black olives.
We have a great relationship with a farmer in Mornington, in Moorooduc – he's got three greenhouses; round tomatoes, roman tomatoes and cherry tomatoes.
He only has 5 small greenhouses and we're the only restaurant that he sells to.
Tomatoes are in their prime at the moment, so we use that opportunity to create a couple of lovely tomato dishes.
That's what it's all about really, keeping it Greek traditional and seasonal.
What is the star dish everyone must try?
My personal favourite is the octopus – we cook it really well and there's different variations.
We've had small octopuses from Lakes Entrance that are the size of your hand, and some lovely larger ones from South Australia – and I really think we have nailed it.
Being Greek style octopus it's a little different, but I would really recommend it to anyone who visits the restaurant.
How would you describe your approach to food?
What I really enjoy is teaching the younger guys in the kitchen about produce.
So many chefs think they know produce, but you don't really know it.
Until you've spoken to the farmers, been to the farms – know what your using and know the product.
I've been working in Melbourne for 5 years, and it's taken me a while, but I know what's around.
I know the seafood, I speak to the fishmongers every morning, I'm in the market – and that's what it's about, getting really good produce and treating it properly.
That's what cooking it all about.
Describe Hellenic Republic (Brighton) in 3 words?
Lively
Greek
Philotimo (*Greek hospitality to the core)
This interview a has been condensed and edited