If there's one thing Melbournians are feeling this month, it's that fashion is definitely in the air – From a week of runways, to street style and now to the mini fashionistas.
Hosted by style ambassador Sophie Van Den Akker, along with mini ambassadors; Harvey Petito and Paris Bishop – Event theatre proudly presents the 2018 RUN: Kids Fashion Runway.
The event will showcase an array of popular kids' fashion labels as a participant of this year's Virgin Australia Melbourne Fashion Festival, and raise money for the Children's Cancer Foundation.
I had the absolute pleasure of chatting with Sophie ahead of the show, and discuss all things kids fashion as well as her exciting new project that is set to take the activewear world by storm.
1. As a mum you must be thrilled about hosting the RUN: Kids Fashion Runway, how did it all come about?
I'm thrilled to be hosting RUN: The Runway, a participant of this year's VAMFF. I have always been very passionate about working with children and mentoring them.
The modelling and fashion space can be a very competitive space; I love the idea of being able to work on an event like this and help contribute to the development of incredible up and coming talent.
As far as how this came about; we were in a unique position where we were looking for help with some of our marketing activities; and it was through this new relationship that both myself and Vault Active were fortunate enough to be put forward and secure what will hopefully be a long relationship.
2. What is your approach to kids' fashion?
I think kids fashion is amazing! My business partner and I are venturing into that space as we speak.
More and more adult fashion lines are developing lines for children; which as a mother myself also provides me with more choices for my own children. It allows that juxtaposition between high end brands like Gucci, through to streetwear like Pavement.
3. What can we expect from the show?
The show is going to be a dynamic and exciting experience. Elissa Meyer-Thomas is the mastermind behind RUN and has been exceptional in pulling together an amazing team to help put on this incredible showcase.
With explosions of colour and some amazing brands; live entertainment and visual delights – it's going to be one of the most amazing showcases for kids in 2018.
4. What are some of your favourite looks and brands from the show?
Oh my goodness there are so many incredible looks and brands for the show that are going to be mind blowing…but I would be remiss to not do a little special shout out to Bardot who are dressing me and Bardot Jr who have the most amazing and gorgeous looks and are my go to retailer for my Daughter Layla.
I think it's amazing that we have such a unique makeup partner in Kooki U – and are in for a real treat when they unveil the new mini-face of Kooki U at RUN.
5. I don't know about you, but kids fashion has certainly changed a lot since I was a kid, how do you think the fashion has changed and what is the best thing about kids clothing today?
I think kids fashion is becoming more diverse. Social media also provides more access for tech savvy kids who want to research fashion concepts or what they want to wear.
More and more adult label brands are branching out into children's lines. There is definitely a stronger approach that has come into streetwear and parents wanting to dress their kids "cool."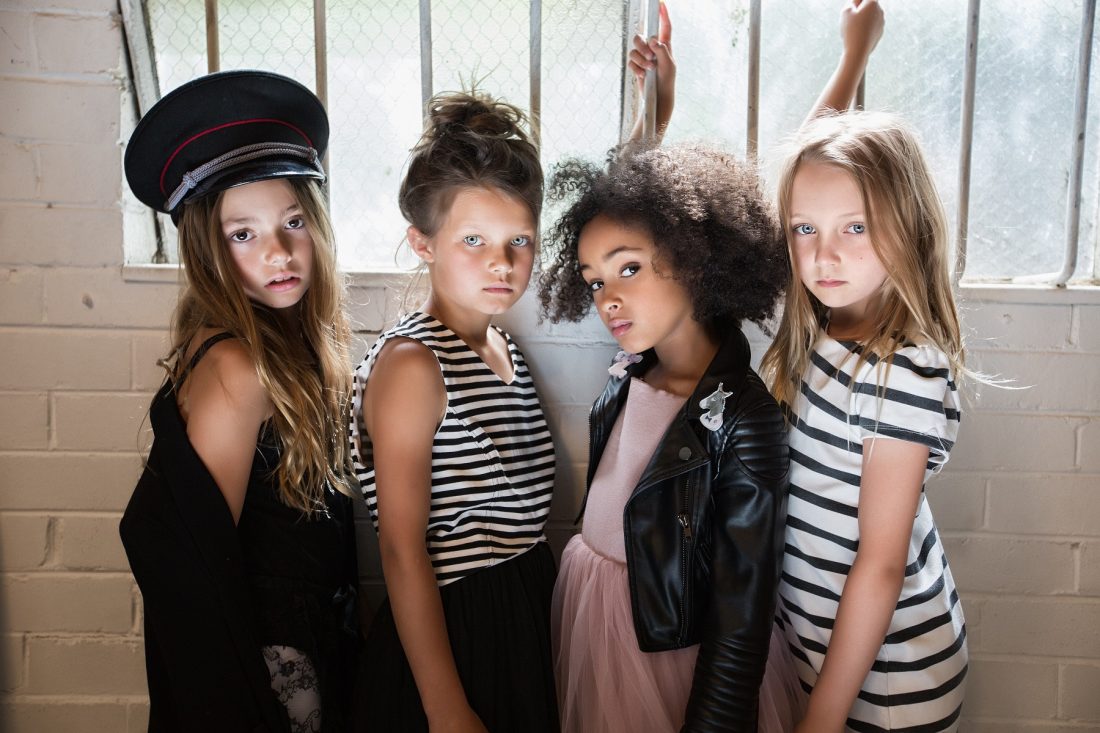 The Kardashians are a classic example with North West and their millions of followers who look to see what they are dressing her in; and how to draw inspiration for their own children's attire.
6. Congratulations on the launch of Vault active! It looks like a fantastic lifestyle brand – has this been in the works for some time?
Thank you!!
What an exciting Journey it has been to date. Vault Active has been a long time in the making my business partner Kate Benden and I shared this journey together since the age of 5.
Vault Active was created from the desire to give back to the community and create a product that everyday woman could relate to and grow with that is made with the most premium fabrics and construction possible at a price point that is affordable.
7. What can we expect from the range?
Versatility and consistency!
We have worked incredibly hard and cannot wait to share the range!! It's quite different to other brands, Vault Active will be known as the one stop black shop.
Our range is clean crisp sleek and fun! We will have styles that are elegant/simple then some on the more daring side. Its exciting. Not only that, three times a year we will be running a coloured campaign where we will align ourselves with three different charity organisations to donate a percentage to.
This is a strong passion of ours.
8. What are your hopes for the future of Vault Active?
The possibilities are endless for Vault Active, we have a strategic plan and will be branching out.
Our hopes are to go global and expand down different avenues – we aim for Vault Active to be a house hold name. We have big plans for VA and hope you come along for the ride with us!
2018 RUN: Kids Fashion Runway will be held on Sunday 18 March at The Melbourne Pavilion