One of the most exciting things about the Melbourne Food & Wine Festival, is the ability to be transported somewhere completely different – even a different country all together.
As the sun set on a beautiful Friday night, that is exactly what happened at Sagra's 'Aperitivo Volce' event.
From the moment you walked through the doors of Sagra there was a sense that you have stepped into little Italy; the vibe, the décor, the delicious smells coming from the beautiful plates being passed around.
Sagar's rooftop bar was undoubtedly the perfect canvas for the event!
Based in Melbourne's beautiful suburb Malvern, it combined the modern and old world, making their guests want to stay all night, and if the dance floor was any indication – we probably could have.
Everything from the Aperol Spritz to the to the Arancini balls felt warm, inviting and full of flavour – with an atmosphere to match.
I had the pleasure of sitting down with the team, to find out about their involvement with the MFWF and what the future holds for the gorgeous Italian restaurant.
Congratulations on your partnership with Melbourne Food and Wine Festival – how did you decide on the concept of an Aperitivo?
Thanks Liz.
We decided on our event 'Aperitivo Veloce' as having an aperitivo (an alcoholic beverage to stimulate the appetite) is a classic Italian way to enjoy an afternoon. And Veloce (meaning 'fast') is to celebrate the Melbourne Grand Prix weekend.
Talk us through the menu – what were the influences with the food and cocktails
We wanted to offer our guests a piece of Italy right here in Melbourne so we are serving some of Italy's most loved dishes, canape style.
We called it it 'the cheapest ticket to Italy!'
Menu:
Crudo: kingfish crudo, burnt ruby grapefruit, white anchovy
Tortelli: foie gras tortelli, porcini cream
Arancini: black truffle arancini, caramelised garlic
Zeppoli: cripsy mozarella balls, aribiata salsa
Bruschetta: seared beef bruschetta, slow roasted tomato, caper & bone marrow aioli
Tiramisu pops: marscapone cream, coffee, savoiardi biscuits, bittersweet chocolate
We also wanted to offer true Italian aperitivo style drinks such as Prosecco and Aperol Spritz.
We partnered with Lavazza for this event to bring the guests a special espresso martini.
Lavazza are also cooked up the most incredible and unique dessert – a coffee caviar that was truly out of this world.
Let's talk about those beautiful cars, what a perfect accompaniment it was – How did the partnership with Zagame Automotive Group come about?
Zagame have been a great supporter of Sagra since we opened our doors in 2015 and, as it was Grand Prix weekend, we thought why not celebrate and make a toast to Italian cars.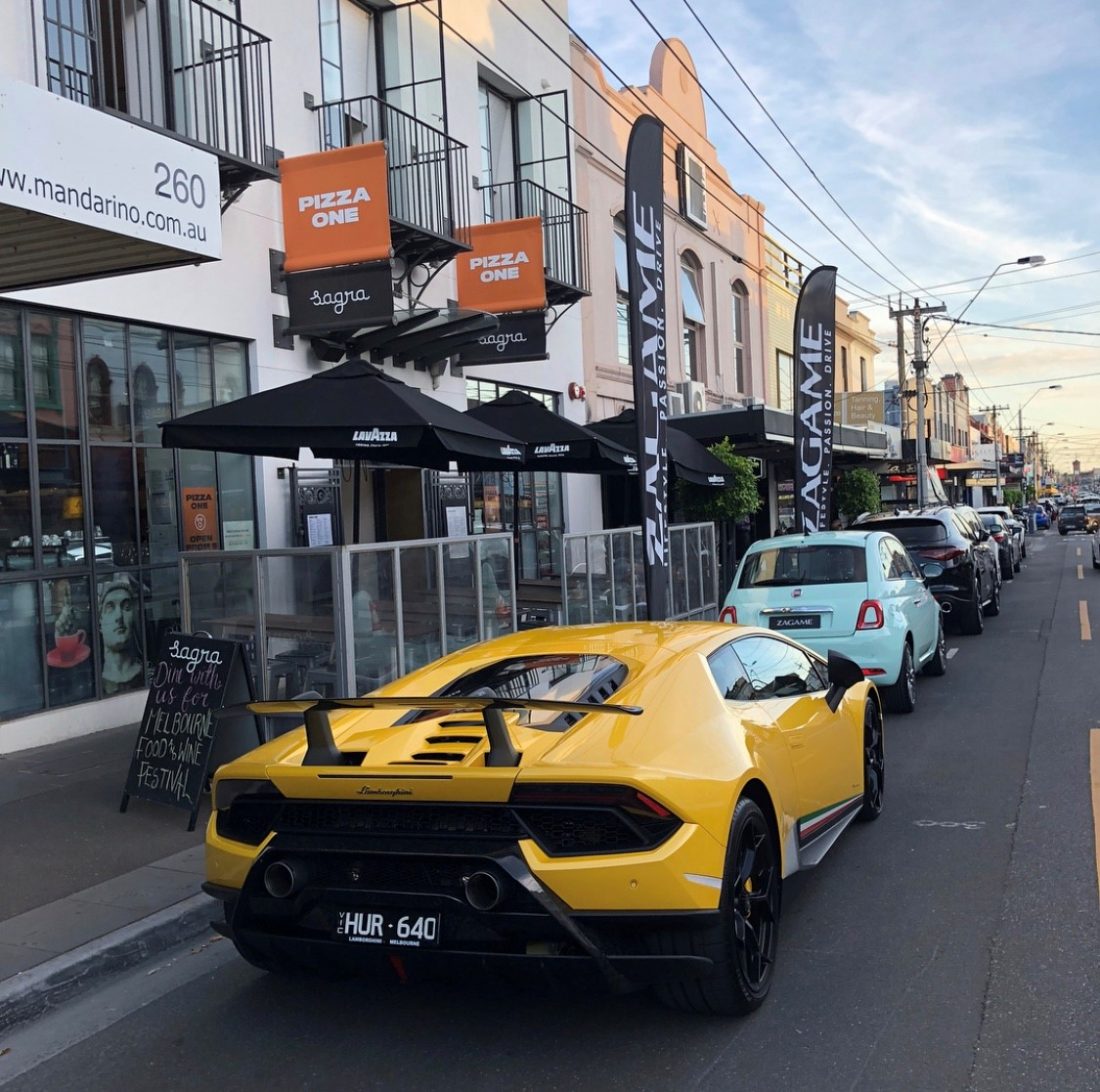 It seemed like the perfect opportunity to get together and create something unique and special.
What can we expect from Sagra in the future?
We have a lot in the pipeline at the moment. We have a pizzeria opening this weekend called Pizza One. This is located above the Sagra dining room on level one.
There are also talks of a food truck in the future, so watch this space.
There is always something going on at Sagra!