It is often said that fashion is art, designed to tell a story – about the designer, the surroundings and the customer who wears the garment to express themselves.
But while sometimes design can be lost in trends, Melbourne based fashion designer Jude Ng is bringing the art of fashion back with his incredible label Design by JUDE.
Located in Fitzroy, the label recently launched their SS17 collection – entitled 'Soft Terrain', taking inspiration from the Australian landscape.
The collection embodies versatile pieces that are relaxed and contemporary, tailored for both men and women – it's all about layers, expression and creating your own unique looks.
I sat down with this incredible designer to talk all thing fashion, art and the passion behind his label.
How did the story of JUDE begin?
JUDE the label was launched with the idea of putting the soul back into fashion, and to communicate my personal point of view in fashion which is different from what is happening in the main stream and stems from a background in fine arts.
It all happened very organically, with a mission to do what I love to do in Fashion, and my idea to put the personal, tactile, handmade and artisanal qualities back into Fashion.
I believe strongly in supporting the local garment industry and to create a quality product in limited editions, for our customer's exclusivity. Very much the antithesis of the fast fashion movement which has taken the world by storm, and has caused major problems for our environment.
Have you always had a passion for design?
Yes, I have always wanted to be an artist or a designer.
From a young age I was always drawing, painting and crafting handmade things.
I studied fine arts with a major in painting. Fashion was always an interest as well, but this only really came to life for me while studying fine art, when I began combining art and fashion to create 'wearable art'.
After studying fashion formally later on, this passion eventually developed into what I am doing today.
It was definitely an unusual journey!
What is the inspiration behind the collection?
Our collections are very much inspired by our immediate surroundings and the ever changing weather of Melbourne – forcing us to be creative with how we layer our garments, and creating a wardrobe for our customer which can be put together and worn in many different ways.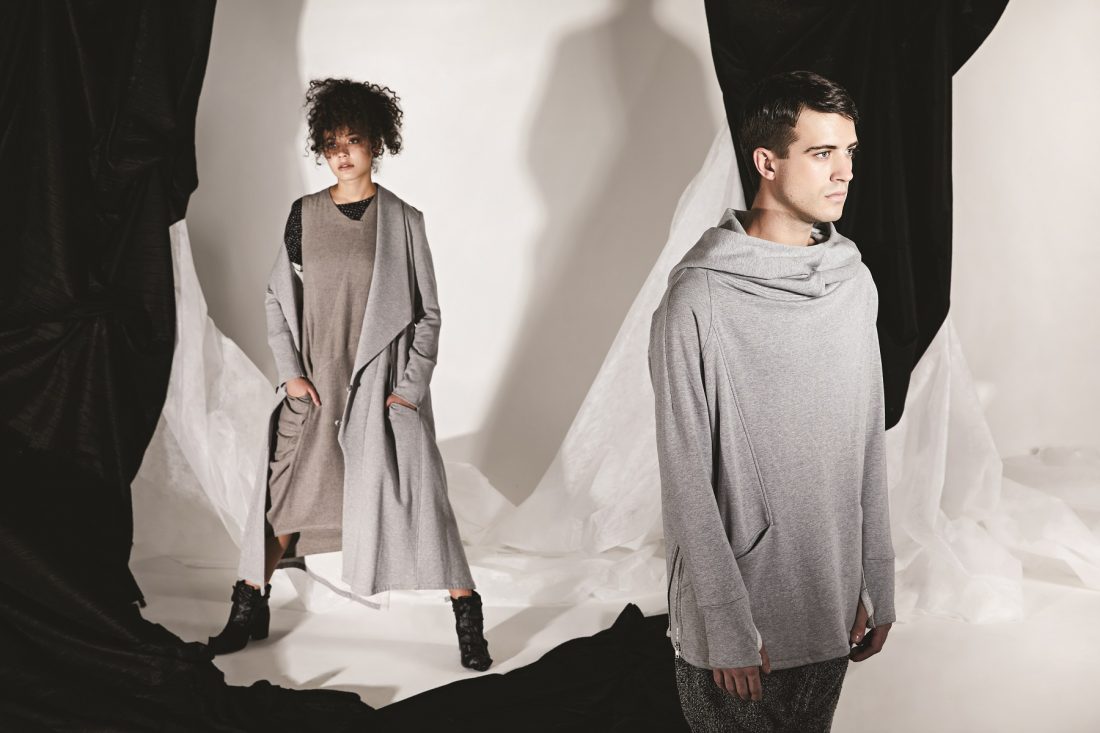 We aim to build the JUDE story for our customer.
With each season being a continuation from the previous one, making our work very trans-seasonal and more versatile.
In this A/W 18 collection titled "Tourmaline", we were inspired by the protective power of dressing up, using clothing as an amulet to fortify the wearer as they travel through their daily life. Much like a tourmaline amulet, the lush textures, deeply rich colours, and functional, sculpted shapes of the collection are layered together to create versatile outfits with longevity.
What makes the design unique?
I believe it is the hand made and artisanal quality of what we do which sets us apart and gets people feeling more connected to the clothing they buy from us.
The striking and often unlikely combination of textiles, the tactile nature of the natural fabrics we use, and the way we cut our clothes in wearable yet interesting shapes with a strong emphasis of asymmetry and being unisex has definitely become the hallmarks of what we do.
Who would be your dream client to wear your clothing?
I believe anyone who has a passion for locally and ethically made fashion, who appreciates the work we put into the clothing, and is not afraid to wear our pieces in their own unique way to really make it their own and part of their lifestyle – would be the ideal customer for us!
Describe the label in 3 words
Artisanal, Versatile, Wearable.