When it comes to a crisp winter afternoon – what could be better than a beautiful pizza.
One of the things I love about cooking is taking classic concepts, and shaking them up, making them different and playing with flavours.
So here's my vegetarian cauliflower based pizza and the perfect wine to match: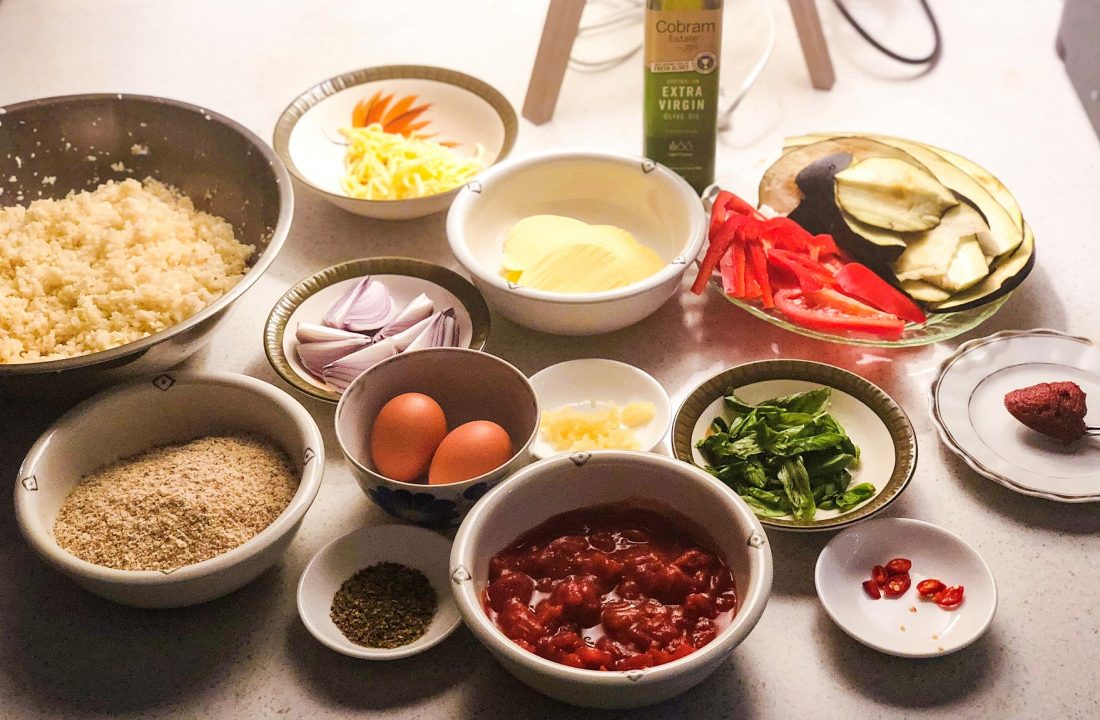 For the base
750g cauliflower rice
100g almond meal
2 eggs beaten
1 tbsp dried oregano
For the topping
227g can chopped tomatoes
1 tbsp tomato purée
1 garlic clove, crushed
½ large eggplant – thinly sliced lengthways
2 tbsp olive oil,  plus extra for greasing
1 small red onion, cut into 8 wedges
1 red capsicum cut longways
½ small bunch basil leaves
125g buffalo mozzarella
25g shredded cheese
Alternatives –
Follow your heart: Mozzarella cheese
Liddells – Lactose Free Shredded Cheese
2 baby chillies cut up – 1 for sauce, 1 for topping
Recipe: 
Pre-heat over oven to 200C/180C
Combine rice cauliflower, almond meals, egg, oregano and plenty of seasoning. Line a baking tray with baking paper and grease with oil.
Mound the cauliflower mix into the centre of the tray, then use a spoon and your hands to spread out into the tray – you can use a round or rectangle tray
Make it a little thicker at the edges to create a 'crust'. Bake for 15-18 mins until golden brown and starting to crisp a little at the edges.
While the base is baking, heat a pan, brush each eggplant slice on both sides with olive oil, cook on each side until softened and charred.
Do the same for the capsicum and red onion.
To make the tomato sauce combine the canned tomatoes, tomato purée, garlic, chilli and some seasoning in and use 'blendy stick' until smooth – once it's done, set aside to cool for a few minutes.
Transfer to a small saucepan, bring to a simmer and cook gently for 8-10 mins until thick, tear half the basil leaves and stir through the sauce – one smooth set aside to cool for a few minutes.
Once the cauliflower base is cooked, set aside to cool a little.
Spread the tomato sauce over the base, arrange the eggplant, red onion and red capcicum.
Place mozzarella and sprinkle with shredded cheese.
Sprinkle the remaining basil and fresh chilli – and voila!
Wine pairing by Winebubble
Who doesn't love pizza and wine?
For a pizza this light and flavoursome, a beautiful Calle Principal Temranilo is perfect, light and fruity it compliment the favours and makes for a delicious combination.
This wine has notes of Cherries, strawberries and vanilla.