It's not every day you get to say that you speak to an 'award winning chef', a master of his craft – but I did, though you would never hear Johnny Di Francesco brag about his accolades.
Winner of the 2014 World Pizza Champion – just this past week Jonny's restaurant 400 Gradi was named the Best Pizza in Oceania, and one of the world's best pizzerias at the 50 Top Pizza gala in Naples.
Held at the historically significant Teatro Mercadante theatre in Naples, the gala event saw the world's best pizza makers assemble for the top 50 to be crowned. Held for the second time after an incredibly successful launch in 2017, the curated event compared almost 1,000 pizzerias from Italy and around the world.
Not bad for a guy who simply had a dream to serve great food ….
The Melbourne based Italian chef, known as 'Mr Pizza', is not only phenomenal at what he does, but is the one of the most humble and passionate people I have met to date. Proudly representing his Naples heritage, Johnny changed the way we see and eat pizza, he brought Italy to us and created an experience like no other in his restaurant 400 Gradi.
From the very first steps of walking through the doors of Gradi, you immediately feel transported to the other side of the world. The amazing food that will awaken senses you didn't even know you had, the beautiful staff who make you feel right at home and an ambience that allows those couple of hours to feel like a holiday – this is the world Johnny created, and the journey he wants his customers to take every time.
On a crisp Sunday morning we sat at his Brunswick restaurant to talk all things food, passion and the life changing experience that would go on to shape his culinary journey.
You've had such amazing success with the 400Gradi journey. Was this always the dream?
I'm not sure if it was always the dream.
When I was a kid, I wanted to do something that was out of the family comfort zone – and this is where I think the business has taken it to, no one in my family has been in business or taken business to this level.
So, the answer to your question is probably no, it wasn't my initial thought, my initial thought was just to make really good food and make people happy.
That was the thing that made me want to do what I'm doing today.
How does it feel knowing you've created an award-winning pizza?
How does it feel?
Personally, it's probably one of the biggest achievements, only because I love pizza – I love the product.
But more than that, what's really made me feel happy is that I've been able to put Australia on the map, or even Melbourne, because for so many years, pizza in Melbourne has been known as a fast food product – whereas I've taken it to a level of world recognition.
Australia has been put on the map – we do know how to make amazing pizza, that's something that's really made me happy.
So, all around it makes me feel amazing personally and for the general Australian public.
What do you think is the winning formula that sets 400 Gradi apart from everyone else?
My staff – without my staff, there wouldn't be a 400 Gradi, and that's the honest truth. A lot of people think that opening a business is all about the owner.
It's not about the owner – it's about how the owner inspires the staff and how the staff then delivers the dream of what the owner has.
In terms of food, what do you think makes it so different?
Whenever you come to Gradi, it's an experience. I described it the other day when I was there – like taking a journey through Italy. I can't go to Italy this year, but I felt I was kind of there.
Most people think that Gradi's only about pizza, and it's not, it's the whole experience.
Yes, we make an amazing pizza, but our entire menu is at another level.
And as you said – it's the experience.
We have Italian staff, and the chefs – we event have local staff that today are speaking Italian.
They have learned to speak Italian or have learned to communicate because they're talking – every day they communicate with other Italian staff.
I want the experience to be: When you come to Gradi you forget about what's happened during the day.
If you'd had a bad day, you come to Gradi, and it's all forgotten about, it feels like you'd had gone through a whole trip of Italy.
You can go from south to north in two hours, three hours of dining – that's the best part about it.
It really was like that with the three and a half hours, it felt like no time has gone at all. 
It's also about the product, it's all about the ingredients – I always tell people you can't turn sand into gold.
If you're buying something that is not great quality, how can you expect to make it become good quality?
I always tell people, "Buy the best products"- Do little to it and make it the hero of the dish.
Take the Margherita, there's two hero products in the Margherita – the tomato and the mozzarella, right.
The dough is obviously the hero of all the pizzas, so the dough must be 100% correct.
But if you're making a pizza, let's say Margherita, and I always talk about the Margherita because people think Margherita is the easiest pizza to make – it's actually the hardest pizza to make in the world.
It is the most difficult pizza that you can imagine, because you cannot hide faults behind the Margherita, its only got four ingredients: the dough, mozzarella, the tomato, the basil – one more of course –  the extra-virgin olive oil.
It's five ingredients, if you're not using the best, you could tell.
People complicate things when it comes to cooking – just be simple in what you do, and I believe that is what will make your product shine.
How did your Naples heritage impact your approach to putting the Gradi menu together?
My father was from Campania or Napoli, a little town probably about 50, 60 Ks out of central Naples, which is called Caserta.
And I remember when – God bless his soul because he was an amazing person – when he was alive, he would always talk to me about the Neapolitan tradition, the pizza, the food, how he missed them because he in Australia for 33 years.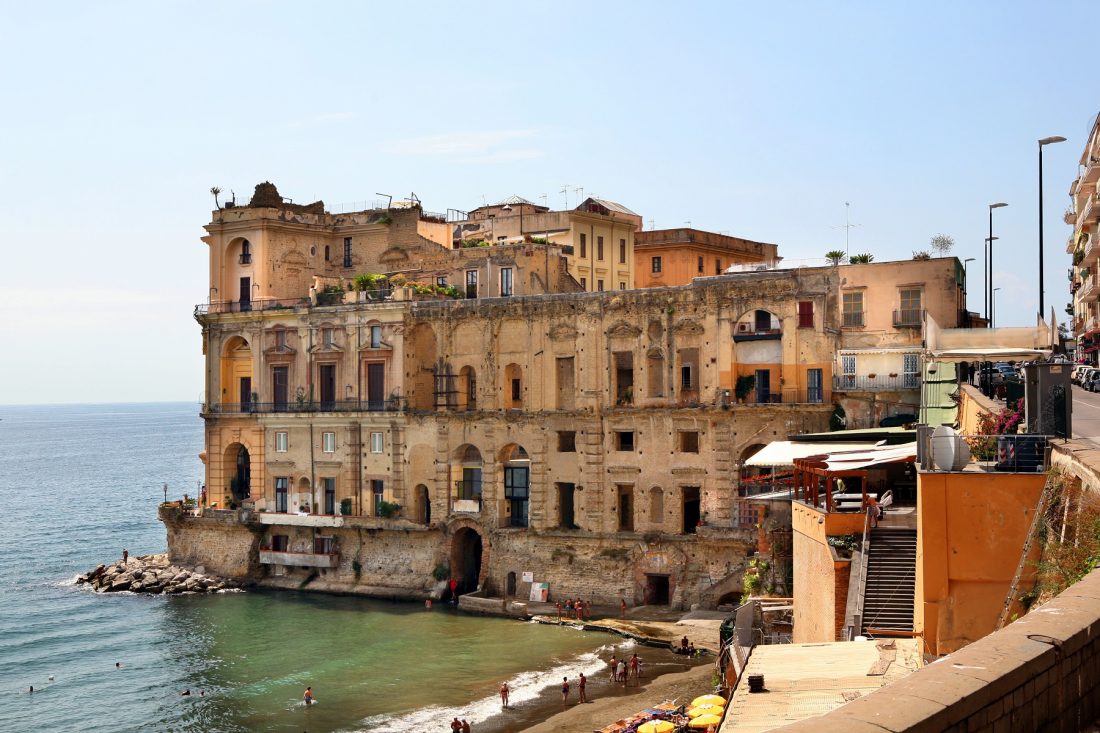 He would always, always talk to me about the heritage.
When he passed, I took a trip over to Naples because I remember he was saying this to me all the time. I thought, 'I really, really need to go over and understand what it was and why he would always talk about this tradition.'
And I remember flying into Naples, I got into a cab – And he says to me, "Where are we going?" and I said to him, "Take me to the best pizzeria you know."
Seriously – that was the first thing I did when I arrived at Naples. I didn't say "Take me to the hotel." I had my bags and stuff with me, and I said to him, "Can you take me to the best pizzeria that you know?"
He looked at me and must of thought – 'Is this guy normal?'
We went to a pizzeria, he took me to central Naples where there's a famous pizzeria called Da Michele – you probably know Julia Roberts filmed a movie there.
We got there, and it was closed –  I was so disappointed, I thought, "Oh, my god. He's taking me there, and it's closed."
Then, when he dropped me off, I said, "Oh, it's closed," and he said, "Oh, no. I didn't take you there. He said, "Go there."
He told me to go to a pizzeria across the road which was called Trianon.
I remember walking into this place and, literally, I think I was the only customer in there because it was during the day. I walked in, sat down and said – "I'll have one Margherita."
Can you imagine? I have my luggage with me, people are looking at me like; "Is this guy nuts?"
They brought me this pizza, I've looked at it, and thought, "Oh, my god. What is this?"
I remember them bringing the pizza to the table, and it wasn't cut. They gave cutlery – knife and fork, and I thought, 'Wow, man. They haven't even cut this pizza. This is crazy.'
I cut through the pizza, I've cut through it just across – so in four slices – the guy came out to me, and he says; "you don't use cutlery –  you can cut," he said, "but use your hands."
I picked up the pizza, and I picked up the pizza like we normally do in Australia, we pick up the pizza, and think that a slice of pizza should be nice and straight, right?
But I picked up the pizza, and the pizza's going 'bloop' (fell down) – I though "Oh, wow. What? – Hang on a second."
So, I fold the pizza, and I eat it, as soon as I took that first bite.
You know when they say love at first sight? I swear this was like love at first bite.
I thought, 'Oh, my God. What am I eating?'
Can you imagine? I've been making pizzas at that stage for 20 years, I thought that I knew everything about pizza.
After eating that, I thought, 'Oh my God, I need to learn. I need to re-teach myself or re-educate myself in this product because I know nothing about this.' This was not like anything I've ever seen in my life. I spent so much time in Naples training, working in pizzerias, and just learning about it.
By the time I came back, I thought, 'Is this going to work in Melbourne? Are people actually going to understand what it is that I want to give to them?'
Honestly, back then – 10 years ago – nobody in Melbourne was making Neapolitan pizza – nobody.
People were criticizing what I was doing at that stage. They were saying that this is not pizza. You don't understand how many times people would turn it away and say to me, "This is not pizza." And I'd say, "What are you talking about this is not pizza."
I can't tell how many times I went home at night crying, because I was thinking to myself, 'I've just gone from being in business at that stage for about 10 or 11 years – and being quite successful in the journey as well, doing what I was doing, making your traditional 'Italian-Australian' sort of pizza I call it.
And then going into this – where I knew that this was 'the product'. This is what I want people to become educated on, and they were turning away.
I'd seriously go home and cry thinking – 'What have I done? Is this really going to be something that people are going to love or people ever going to understand?'
It took me nearly a year and a half – I think anyone else would have packed it up.
Anyone else would have said, 'I'm done. Let's move on, go back to what I was doing before because it was proven. It was successful.'
And it was, it was something that I knew how to do really well but I just kept persisting. I thought, 'No. I need people to understand what I'm doing.' – And thank God I did.
I remember a really bad review I had from a food journalist that worked for a major paper – this is the honest truth – criticizing me.
And I remember the score, because I sat at my kitchen bench crying, crying seriously like a little boy, thinking, 'Why has this guy done this to me?'- he gave me something like 24 out of 50, stating that this was not pizza, and he is supposed to be a really reputable food critic
I remember thinking, 'You're a food critic, and you actually don't understand what it is that I'm doing.' I thought that it was never going to work at that stage, I thought, 'I'm going to be closed down. This is finished for me.'
Thankfully, that review turned the whole business around.
Australians are well-travelled, right? We love travelling – love going overseas.
I had a lot of people that had been to Naples, and people calling saying, "Do you really make Neapolitan pizza?" And it just went off from there – people started coming in.
People getting their pizza at the table and telling the waiters, "This is the same product that I just had a month ago. I was in Italy a month ago, and I went to Naples. Oh my God, I can't believe it."
It just snowballed from there. It was really like the turning point of what we were doing.
A lot of people think, "Oh, he's lucky. He's done this. He's done that." –  It's not about luck.
It's about persistence. it's about perseverance, it's about hard work.
This is where people don't get – they think, "Oh yeah, let's go and steal the formula. It's pretty easy what he's doing."
It's not actually that easy, it's not that easy doing what we do. I mean, sure, you can get anyone that understands the product, who has worked for us, and you know a lot, and open a place. But it's not just about making really good pizza.
This is what people don't understand about business.
Making good food, making good pizza, or good pasta, or anything, that is 25% of business. There's so much more behind the impulse.
If you were to give one piece of advice for young chefs starting out, what would it be?
Don't get in the industry because you think that it's glamorous – because it's not.
That's the biggest piece of advice.
I love all the cooking shows, I really do. I think they've done amazing things for the industry. They've done amazing things also for aspiring chefs, but it's not always as glamorous as what you would see in any of the shows.
It's a tough gig.
You want to make it in in this field? You have to remember it's long hours, it's hard, it's tiring, but it can also be really rewarding.
For me, I always tell my staff – if a customer says to me, "Johnny, that was the best food I've ever had in my life." Believe me, they've already paid for their food for that because that's why I do what I do.
I don't do it for how much you're going to pay for my food – It's got nothing to do with that. It's all about how I pass on the love that I have for cooking to the person that is about to receive that dish. That, for me, is so much more than anything.
So, for anyone that wants to get into the industry, if you have that drive, that passion about wanting to really make people enjoy what it is that you want to let out because cooking comes within.
 Whatever you feel within, you need to put it on the plate.
If you have that feeling – it's a big gain to the industry. If you think that you're going to get into the industry because it's glamorous, and you're going to make a lot of money, you know what? Don't even bother. You're on the wrong track already.
It's the same advice for anyone that wants to get into business. If you think you're going to get into business because you're going to be a millionaire, you better think three times, not even twice, think three times.
What is the best advice you ever received?
Best advice I ever received? Wow. I don't know if it was advice. It was a statement that made me think, "Really?" when I was 19.
I was about to open my first business. I remember standing outside the actual restaurant that I was about to open, waiting for some tradesman, and a little old lady was walking on the street. This is honest to God, the truth. She was walking on the street, and she stopped and said, "Young man, what are you doing? And I said, "Oh, I'm just about to open up my first business."
And she says, "Oh, that's fantastic – just remember, do not expect to make any money for the first 10 years." I looked at her, and I said politely, "Okay. Thank you so much."
As she walked past, I thought, '10 years. Are you serious?' I'm getting into business, and I'm not going to make money for the first 10 years?
Well, you know what?
The first 11 years of my career in business were the hardest 11 years of my life.
It wasn't easy at all – and I'll never ever forget her words because I tell people all the time, "Don't ever expect to make money for the first 10 years."
People look at me, and think, 'Are you crazy?' But it's so true.
In today's environment, in the business environment, it's even harder than it was 21 years ago when I opened. So that was maybe not advice, but that was a statement that I will never forget.
Describe food in three words
Love, happiness and family.
It's all about loving what you're doing – it brings happiness and brings people together.
Food is the centre attraction when it comes to getting people to just join, loving who they're around. Eating and people are a combination of life I think.
What else brings people together?
I think it's the only thing that will bring people together.
What's next?
What's next?
I joke about this – and I always say I want to be the first person to ever open a pizzeria on Mars – that's my goal. If I ever get to there, if I ever get to that goal, well, that'll be great. If I don't, I don't care because that's my limit.
I don't think I have a limitation on what I want to do and what I want to achieve. We are doing international restaurants, and so we've opened two international restaurants so far. We're probably going to be doing our third one this year and, hopefully, our fourth next year.
We opened two in the Middle East.
We're opening in Auckland this year, and next year we're opening in the US, in Dallas, Texas.
Sky's the limit