From the foodie to the sportsman and the man with style – we have you covered.
Here's my top pick for the most unforgettable and delicious gifts for your Dad this Father's Day…
Handmade sausage cooking class at Green Olive at Red Hill
Spend time in the kitchen garden and commercial kitchen with an experienced chef.
Once the hard work is done you sit down, admire the view of the vineyard, kitchen garden and ducks on the dam whilst enjoying the tantalising produce you just made with a glass of Estate wine.
Green Olive Red Hill
Cost: $180 per person
Get creative with Dessert Boxes
Make it personal and add all his favourtie things in one special box!
From footy colours to sweet delight and his favourtie spirits – there will be something to suit every dad's taste.
Dessert Boxes
Cost: From $45
For the man with style it has to be – SO JOURNEY 
For the man who travels in style this gorgeous garment back from JOURNEY is perfection.
SO JOURNEY
Garment Bags: RRP $179
Take a delicious journey with Whisky and Alement
Why not take dad on a whisky journey?
Classes are a great way to develop his interest and the understanding of whisky, not to mention a delicious experience.
Fun and informative for everyone, from the complete novice to the serious enthusiast, let one of our presenters, who are known authors and spirits judges, take you on journey through the world whisky.
Whisky and Alement
Cost: Whisky classes from $80
Give him an unforgettable foodie experience at the 400 Gradi adult masterclass
Want to know how to make perfectly cooked Neapolitan pizza?
Whether you are lucky enough to have a wood-fired oven in your back yard, or have a regular domestic oven, our highly skilled pizzaioli will show you how to make pizza dough from scratch, and transform it into an award winning pizza.
What's included
100% Arabica coffee to start the class
They will teach you how to make your own pizza dough from scratch
Hands-on cooking of your own pizza in the 400 Gradi kitchen
Glass of Italian wine to compliment your pizza
Take home pizza dough for your next pizza party
Course notes
Further information on what you need to make true Pizza Napoletana at home
400 Gradi
Date: Saturday, 1 September 2018 – Father's Day Special (9:30am – 11:30am)
Location: 400 Gradi, 99 Lygon Street, Brunswick East
Cost: $120 per person
For the ultimate sportsman give him an unforgettable experience at Melbourne Golfing Tours
Give him the exprience he'll remember forever with Melbourne Golfing Tours, they even offer a 'Celebrity Experience' – it doesn't get much better than that…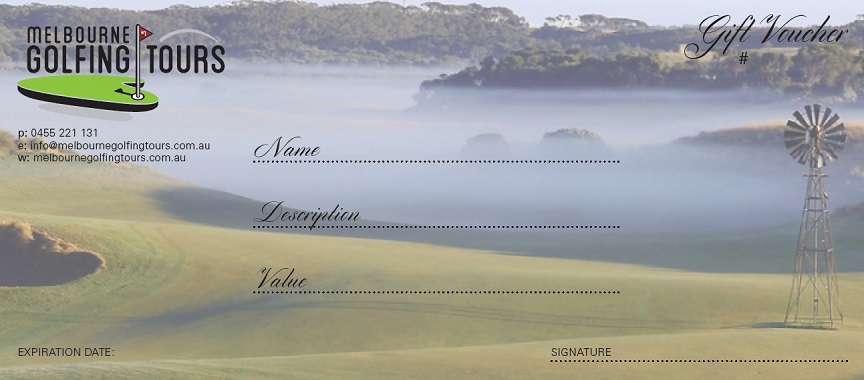 Melbourne Golfing Tours
Gift voucher
Select any value you like and it can go towards any golf tour bookings, a round of golf or for  "The Celebrity Experience" and is valid for 12 months from the date of purchase.
Contact info@melbournegolfingtours.com.au