There is one thing a true foodie knows for sure – eating is not simply eating – it's a journey. It begins with a look, a capturing moment of pure curiosity, a desire to try and work out what the particular delight may taste like, and finally the moment all is revealed – the first bite.
That is exactly what I experienced the very first time I attended an event hosted by Tommy Collins by Atlantic Group, my eyes sparkled with wonder, and my taste-buds danced with joy – the item in question was a delicious chocolaty cigar, and it just got better and better with every mouthful.
But don't just take my word for it – just take one look at Melbourne's prestigious event calendar! The bespoke catering group have headlined some of the biggest events around and are always a favourite among the 'foodie' circle for their creative and fashionable approach to presentation matched with out of this world taste!
I had the absolutely honour of chatting to Tommy McIntosh, Creative Director at Tommy Collins by Atlantic Group, to talk all things food, events and the future …
Congratulations on all the amazing success Tommy Collins by Atlantic Group has had, you have certainly worked on some amazing events – what has been the biggest highlight?
Thank you, the past 12 months have been huge for Tommy Collins by Atlantic Group. Events are like children you really don't like to pick a favourite.
Landing the Portsea Polo & Beach Polo was a huge success for our team and a credit to the great work we've delivered in the past.
The Virgin Australia Melbourne Fashion Festival was a dream project that we had our eye on for 9 years, and we've finally secured this. It was always number one on our catering bucket list because we saw it as an opportunity to showcase the full range of our creativity.
We are definitely seeing a new trend with food where the presentation is just as important as the taste – is that an important element when you are putting a menu together?
We always say – 'First bite is with the eyes'.
But it is so important to backup that amazing presentation with loads of flavour and of course texture to round it off. We don't create food just for the sake of a colourful Instagram feed, it's got to be memorable for its taste.
What is the secret to putting together a truly great menu for any event – be it a wedding or the races?
Balance is the key; balance of flavour, balance of size, balance of dietaries.
It is so important to put yourself in your client's shoes: What time of day or night they are arriving? Does the menu need to substitute lunch? Is there enough variety to cater to the ever-growing dietaries requirements?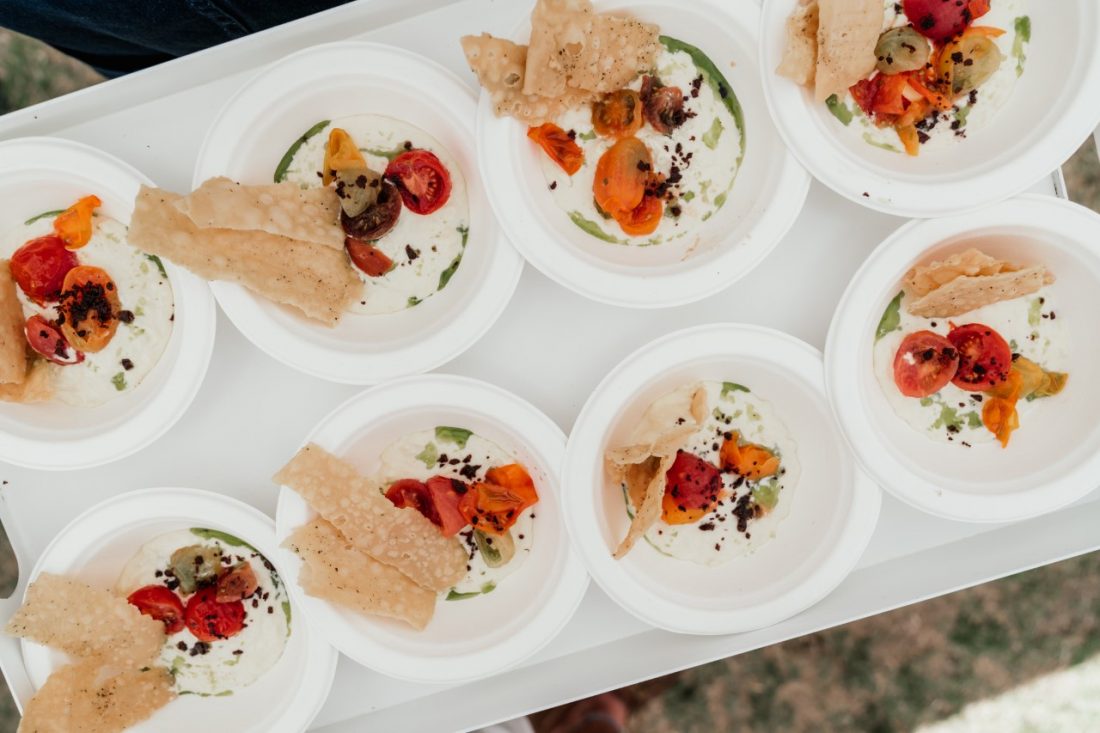 A menu needs to be progressive, take Blue Diamond Stakes Day at Caulfield Cup. We like to start with, ice-breaker canapés that are small, tasty and can be enjoyed with a champagne in hand. We then progress to something a little more substantial such as a Prawn cocktail Roll with compressed celery.
A few hours in its great to start introducing a few bowl dishes. Burrata with confit tomatoes, olive soil & Fried Pizza Dough is always a crowd-pleaser! Throw in a show stopping dessert, like "Cookies & Cream Crumble". Then when they least expect, finish with something a little naughty like 'A Big Kahuna Royale with Cheese burger' to soak up the day's drinks.
What has been your favourite creation so far?
We have had so many amazing creations throughout the years, and a massive hit so far this year is our Momofuku inspired-Fried Corn Rib's with Bloody Mary Aioli and fresh lime.
2019 has certainly kicked off with a bang with both Portsea and Twilight Polo – what are some of the other exciting events you have coming up?
We have Blue Diamond Stakes, Flinders Polo, Virgin Australia Melbourne Fashion Festival, Caulfield Cup, and Caulfield Guineas just to name a few… but stay tuned there's always new and exciting events on the horizon!
Describe food in 3 words …
Only three?!
How about: What LifeShouldBeAll about