Wiping Tears is a non-profit charity that was established to provide immediate financial assistance to families who are experiencing disadvantage due to illnesses or social injustice.
At the head of this amazing organization is CEO Nissy Nassif. Nissy is a socialite and social entrepreneur who is passionate about helping families who have faced financial traumas due to health obstacles. This incredible philanthropist has changed the lives of many and continues to work hard is helping those in need.
It was such a delight to have a chat with Nissy and talk all things business, philanthropy and what we can all do to support Wiping Tears.
Firstly, let me just say, you are an absolute inspiration, the work that you do is truly incredible. What inspired you to start Wiping Tears?
Thank you for your beautiful words. I personally love working closely with people and listening to their stories. Myself and my husband Jean have been very lucky and we simply want to give back to the local community. I feel it's important to create awareness about certain issues that people are facing on a daily basis that seem to be forgotten, particularly when some of the issues are ones I faced myself growing up.
We are fortunate enough to have a platform not only to help families in need but also raise funds mainly through the Toplace Construction network, as well as our personal friends around the country. I think when you are lucky enough to be blessed with a healthy and happy family you should always give what you can back to others.
You have certainly helped families in truly heartbreaking situations, how have you come across some of these stories? And what are some of the biggest challenges when trying to help?
I've met most of our families through our social media platforms to be honest, which really shows the power of social media for positive change. Similarly, some church organisations have referred to some families in need. Some have also been referred through old fashion word of mouth.
It is challenging and heartbreaking to witness some of the hardships some families go through especially those with young children suffering from debilitating health conditions. However, one of the most challenging experiences I've found was working with a family whose dad had cancer and we had plans to fly him to Melbourne to watch the tennis as his last wish.
I was planning to visit him and he asked to see me, as his health was deteriorating but unfortunately, he passed away before I made it to the hospital. It still breaks my heart to this day.
As a CEO, what would you say are some of the biggest challenges and most satisfying rewards in your position?
As CEO of Wiping Tears, one of the biggest challenges is to keep reaching towards the organisation's future goals. Each year we plan a large fundraiser which takes up a lot of time but is so worth it to show our incredible sponsors everything we've achieved throughout the year.
The most rewarding part of my job is when I receive messages from people we've worked with, sometimes even the kids of families we've helped saying "I love you Nissy, thank you for helping my family".
This is what motivates me to work hard for the charity and the wonderful people we have the privilege of working with.
How did you come up with the name Wiping Tears?
While we were brainstorming the strategy for the charity before we began, we knew we wanted to make a considerable difference in people's lives. The name actually was suggested by a friend of mine and we felt it summarised the charity's mission well.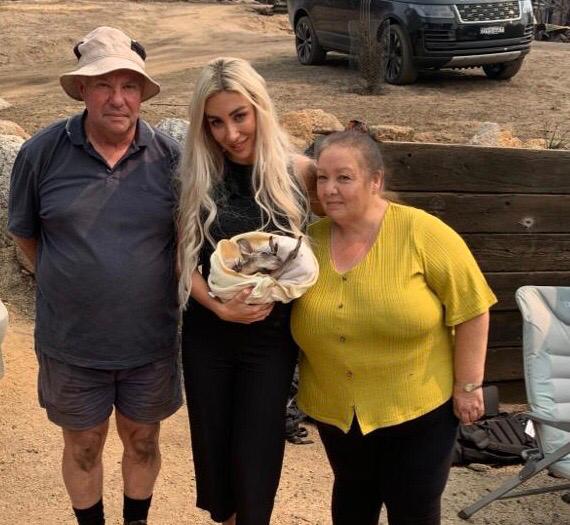 How can people support the Wiping Tears Charitable Foundation?
I'd like to invite everyone to follow our social media pages @wipingtearscharity
Here you can keep up with what we're up to and follow the link to our website to donate.
Most importantly Keep an eye for our annual gala fundraiser this year falling towards the end of October,  invite all your friends and purchase a table of ten or individual tickets to attend. It's a fabulous night full of entertainment and all for a great cause.