Well, it's that time of year again – decorated trees, colourful lights, Mariah Carey and Michael Bublé playing on repeat and of course the challenge of finding the perfect gift.
From the most stylish to the most delicious and some of the best experiences around – I've got you covered.
So here's my pick for the best gifts this Christmas …
Foodies & Entertainers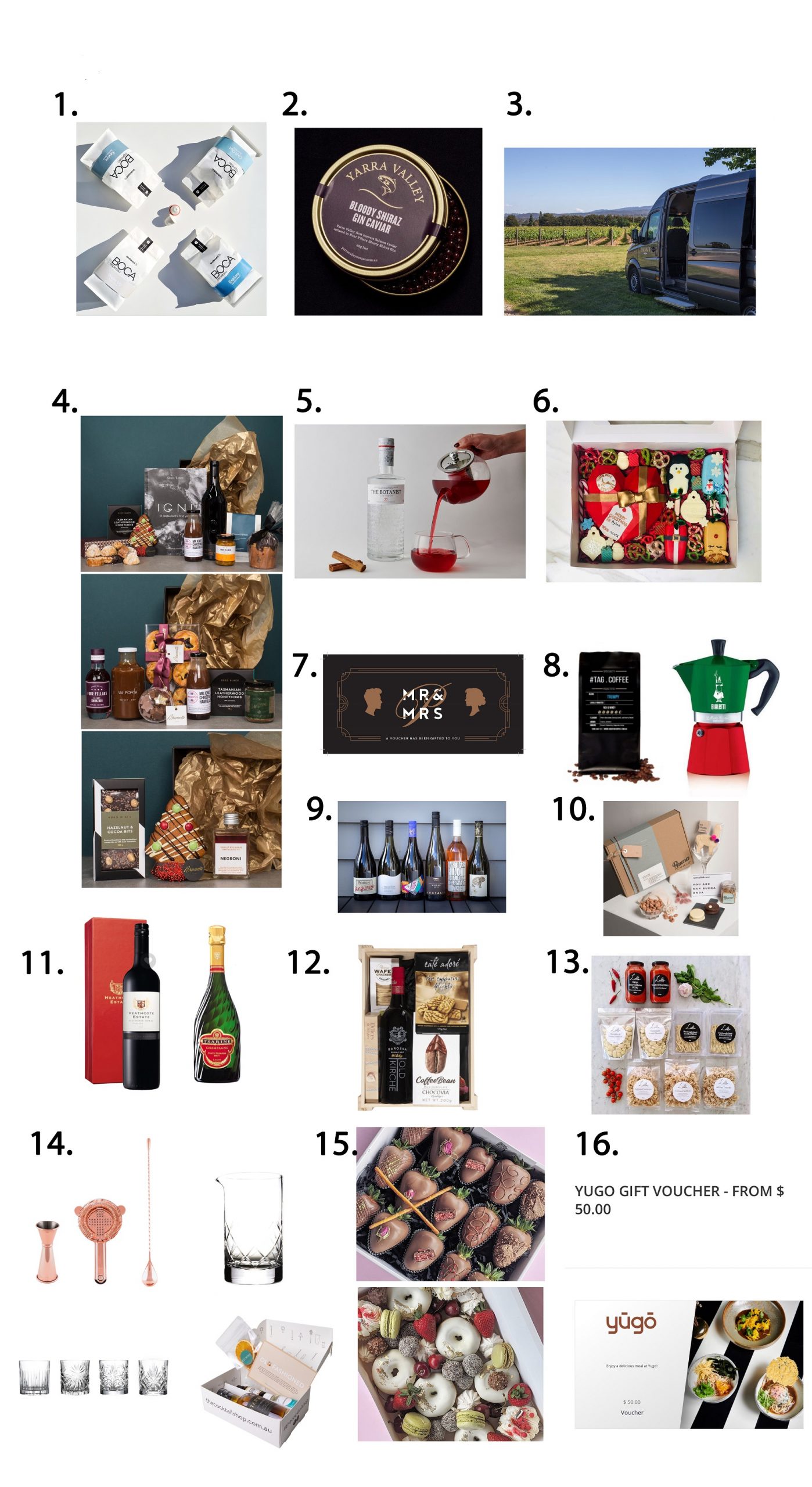 1. Boca Espresso
$32.00
2. Blood Shiraz Gin Caviar
$23.90
3. Elevate Wine Tour
– Specialising in private tours of 2-11 guests
– Tours available 7 days a week
– Pick up available from anywhere in metro Melbourne and the MP
– What's included: transport for the day, all tasting fees, lunch with a glass of wine
– Gift vouchers available to purchase online
4. Co/Lab Pantry
Under the mistletoe – $250.00
Includes:
Zonzo Reserve Pinot Noir 2018
Koko Black Leatherwood Honeycomb
Brunetti Assorted Biscuits
Brunetti Gingerbread Tree
IGNI: A Restaurants First Year
Entrecote's Mr Jones' Christmas Ham Glaze
Market Lane Season Espresso Whole beans
Four Pillars Orange Marmalade
Mini Chocolate Chip Panettone by Chocolati
Includes:
Tip Jar Australian Negroni
Brunetti Fruit Mince Tarts (6 pack)
Four Pillars Marmalade
Koko Black Hazelnut Gianduja Bombs
Includes:
Tip Jar Australian Negroni
Brunetti Fruit Mince Tarts (6 pack)
Four Pillars Marmalade
Koko Black Hazelnut Gianduja Bomb.
5. The Botanist 'G & Tea' Gift Pack 
To celebrate Christmas, The Botanist Gin has partnered with Australian tea producer The Sunday Lab to create the ultimate Christmas gift for your cocktail loving family members and friends. The Christmas gift with purchase features a complimentary Botanicus flavoured herbal Tea Tube and infuser so you can become the ultimate forager with your cocktails this festive season.
$86
6. Chocolate DnA – smash chocolate and choice of fillings
$85
https://www.instagram.com/chocolate.dna/
7. Mr & Mrs P
Give the gift of a delicious foodie experience at Brighton's favourite restaurant.
8. #TAG Coffee
Trumpy Coffee Beans 
Discover the rich, chocolate and berries taste of the Trumpy blend. Trumpy is rich and winey, with the aroma of aniseed & dark chocolate. It's darkly roasted and the most popular choice of our customers.
$22.50 – $39.50
www.hashtagcoffee.com.au/product/trumpy
Bialetti Rainbow Moka Express 3 Cup – Italy
With the new Bialetti Rainbow Moka Express range, an all new colourful display of your beloved stove top espresso maker is possible.
9. Elevate Wine Store
– Like doing a wine tour at home!
– Wine made by small producers on the MP
– Stocking organic and biodynamic wines
– Wide range of varietals showcasing the best of the MP
– Wineries we feature: Quealy, Panton, Yabby Lake, Crittenden, Ten Minutes By Tractor, Montalto, Willow Creek, Rare Hare, Kerri Greens, Baillieu, Scorpo, Paringa, Tucks, Ocean Eight, Gunnamatta and Elgee Park.
– Other businesses featured in gift packs: Plumm Melbourne, EAU Mornington Peninsula, Red Hill Candle Co., MP Chocolaterie, Revolution Roasters.
– Delivery for gift hampers Victoria wide.
– Hampers can be purchased now or pre-ordered for selected delivery dates in December
– Gift vouchers available for purchase online
– Wine delivery available Australia Wide with flat rate shipping
*Use COFFEESANDSTYLE. This code will offer $20 off our entire site for the month of December [min. spend $200]
10. Buena Onda & Co.
Creators of handcrafted Latin American inspired sweet treats and desserts. They deliver the traditional Latin American ethos of warm hospitality, friendliness and as their name translates, 'good vibes' – and their recently launched Gift Box range are packed with exactly that!
Goodies range from $38 – $54. Plus the finishing touches on their beautifully presented eco-friendly mailer boxes will surely impress any recipient.
11. Dan Murphy's
Tsarine Brut NV  Champagne Tsarine
Created by Chanoine Frères (founded 1730), was made in homage to the Czars of Russia and to women of Russian nobility from the 19th Century.
White peaches, nectarines, lemon peel, fresh biscuits and a dry, delicate finish
$49.40
Heathcote Shiraz  Heathcote Estate
A well known Victorian winery located on the ancient Cambrian soils of Heathcote. Full-bodied, brooding dark fruit and a long, complex finish.
$45.99
12. Dan Murphy's
Karlsbridge Old Kirche Shiraz Indulgence Pack  
Includes a full bodied, crowd pleasing shiraz with a range of delicious snacks and chocolates
$49.99 per pack
13. Lello – Pasta Obsession
1 X Lello Semolina Casarecce Pasta
1 x Lello Semolina Fusilloni Pasta
1 x Lello Semolina Trottole Pasta
2 x Lello Handmade Gnocchi
2 x Lello Fresh Scialiatelli pasta
1 x Lello Tomato and Basil Sugo
1 x Lello Nduja Spicy Calabrian Sugo
$85
www.lello-pasta-bar.myshopify.com
14. The Cocktail Shop
Stirred Cocktail Kit
Available in Silver and Copper
$89.99
https://thecocktailshop.com.au/shop/barware/stirred-cocktail-kit-copper/
RCR Crystal Cocktail Tumblers Set
$39.99
https://thecocktailshop.com.au/shop/gifts/rcr-crystal-cocktail-tumblers-set/
Starward Old Fashioned cocktails with fig and cinnamon Mr Bitters
$69.99
https://thecocktailshop.com.au/shop/cocktail-kits/old-fashioned-cocktail-kit/
15. Strawberry Avenue 
Christmas box is $85
Second Gift box is $59
16. YUGO Melbourne
Gift vouchers from $50
www.yugomelbourne.vouchercart.com
Life & Style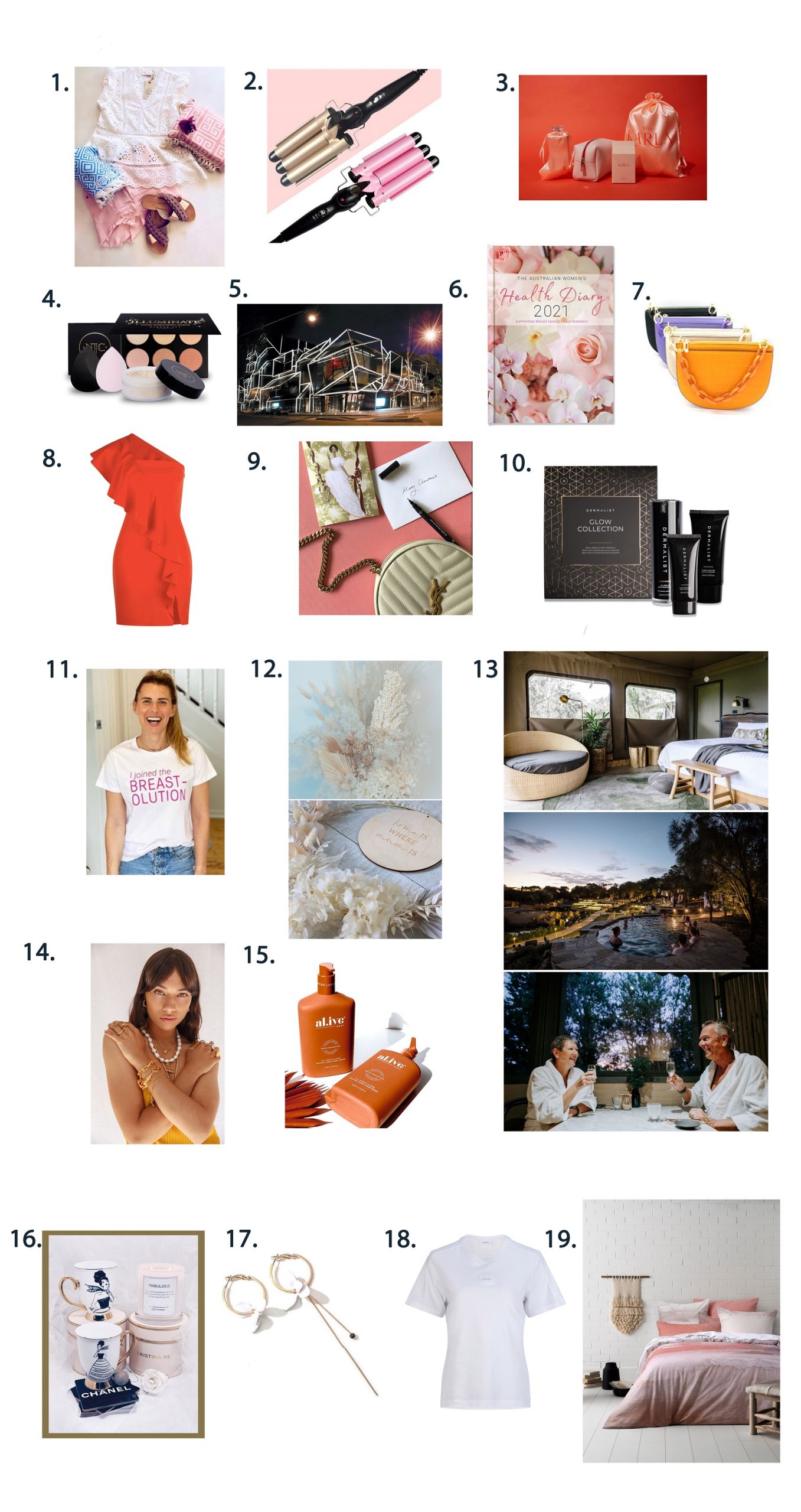 1. House of Nicholetta
Miss June Paris Heaven Broderie Anglaise, French lacing top.
$239
https://houseofnicholetta.com.au
Handloomed cotton beach towels made in Greece and satchel. Highly absorbent, soft quick-drying towels that can be used as a wrap.
$75 – available in store.
Greek key satchel $65 – available in store.
Ammos accessories shoes made in Greece – https://houseofnicholetta.com.au
Shorts $59 – available in store.
2. The Babe Life x
Beach Babe Wave Ceramic Curler
$69.99
www.babe-life.com/products/professional-hair-curling-iron
Discount code: COFFEE&STYLE15
3. With Karla
THE KK BUNDLE – limited edition KK Bundle includes Best Selling Beauty Bundle – only this time, it comes with the perfect size cosmetic case to store your favourites in.
$99.95
www.withkarla.com/collections/frontpage/products/the-kk-bundle
4. Nikkia Joy Cosmetics – Ready Set Glow Bundle
Get ready to set & glow with this bundle containing best-selling Velvet Finishing Powder, both Perfecting Sponges and Illuminate Highlighting Palette! Created by YouTube superstar and professional makeup artist Nikkia Joy, this is the ultimate makeup pack for the Christmas party season.
 $130
5. Melbourne Theatre Company 
Available in any sum above $5, and they are valid for 3 years.
  www.mtc.com.au/plays-and-tickets/gift-vouchers/ 
6. Women's Health Diary
$18.95
www.breastcancertrials.org.au/merchandise#diary
7. Bag Queen – Surprise Baby
Half circle leather embossed bag features zip-top, gold hardware and leather-lined in contrast colour. Surprisingly this bag comes with both sides that open up in contrast colour to reveal card slots and pocket.
$129
www.bagqueen.com.au/collections
8. Cazinc the Label
Scarlett dress – Sunset
www.cazincthelabel.com.au/collections/stitch-scarlett-dress
9. Fashion Illustration Sketchers 
– $6 individual
– $20 for 4
– $45 for 10
Wrapping $15 for 3 sheets
Custom Xmas digital sketch $55
Custom sketches prices on my website from prices vary, digital and hand-drawn original.
DM or email to discuss info@sarahdarby.com.au
www.sarahdarby.com.au/product-page/christmas-digital-sketch
www.sarahdarby.com.au/book-online
10. Dermalist Christmas Skincare Packs
Products are simple to use, practical and affordable and are suitable for all skin types and safe to use when breastfeeding. The sleek, unisex minimalist packaging can also ensure products appeal to both men and women.
$169
www.dermalist.com/the-glow-collection
11. Breast Cancer Trials 
Breastolution Tee
$39.99
www.breastcancertrials.org.au/merchandise
12. Melbourne Flower Walls
Wreath
$119
Arrangement
$149
www.instagram.com/melbourneflowerwalls
13. Peninsula Hot Springs
Bathing & Dining packages
From $130
www.peninsulahotsprings.com/christmasgiftideas
14. By Georgia – The Golden Age
The range varies from everyday earrings like The Revival, No. IX and the Mandorla's to standout pieces for special occasions or dressing up your outfit like the La Forma earrings, the No.VI and the Dreamer hoops. Other standout pieces from the collection included the Links bracelet and No. XVI bangle along with her range of everyday necklaces. Her personalised collection includes necklaces, rings and cufflinks.
$49 – $400
www.bygeorgia.com.au/collections/new-the-golden-age
15. CAMELIA 
AL.IVE Body sets
The Duo includes a 500ml hand & body wash, 500ml hand & body lotion and a matching tray. The al.ive body Australian made hand & body range combines product purity with designer aesthetics to stimulate your senses and shape your surroundings.
$79.00
www.camelia.com.au/collections/al-ive-body
16. BouBoulina Designs
Where luxury meets the goddess within. Brave, Beautiful and Strong. A woman's journey. Choose from thier Inspired Couture Candles, Diffusers & Gift Sets.
All handmade with love right here in Melbourne, Australia. Check out their very exclusive homewares range including Cristina Re & Sue Sensi.
From $59
Discount code : Goddess15
17. Rhodin Collection
From $35
www.rhodincollection.com/earrings
18. Third Boi
Henrik Tee – White
$89
www.thirdboi.com.au/collections
19. Harris Scarf
Dawn quite cover set – Double Bed
$159.99
Kris Kringle 
1. JELLA Cases
JELLA is your bestie in your back pocket, it's with you always to help capture your moments, follow along, or create! Simply Peel it, Stick it, Set it, Share it!
From $35
www.jellacase.com.au/collections
2. Revlon
Kiss Kringle Gift Pack
$24.95
3. Lenny Rose Active
Designed by health expert and qualified physiotherapist, Rosie Dumbrell the brand leverages science and innovation offering women maternity wear that is timeless and versatile without sacrificing style and quality.
Woman Tee $49.00
An elevated take on the fitted tee, the Woman Tee is easy to wear with legging and sneakers or style under suiting for a modern fresh look.
 www.lennyroseactive.com.au/product/woman-tee/
4. The Prosecco Van
Premium Prosecco
$25.00
www.theproseccovan.net.au/product/premium-prosecco/
5. Martinich & Carran
Design label Martinich & Carran is a dynamic artistic partnership between renowned Melbourne-based creatives Rowena Martinich and Geoffrey Carran.
The husband and wife duo work in collaboration to create huge colourful mural's which celebrate both of their vivacious approach to painting and life. The pair also produces a range of prints, home-wares and is often found working closely with architects, designs global brands, consulting on projects or translating their work into a new project or building.
A4 RED ROBIN PRINT $49.00
www.martinichandcarran.com.au/product/a4-robin-print-on-sale
6. Alpha Omega Skincare
Hyaluronic Acid Serum – $34.95
Coconut Vanilla Body Cleansing Soap – $13
Fruitful Face & Body Oil – $42.95
CODE AOS35
7. Sleeping with Jacques
Silk Sleep Mask
The eye mask will ensure a night of uninterrupted beauty sleep. This luxurious design is designed for the perfect amount of shine, thickness and softness.
$49.00
www.sleepingwithjacques.com/collections/accesories/products/silk-sleep-mask-white-black
8. Co/Lab Pantry
Brunetti Christmas Traditional Panettone
$29.00
www.colabpantry.com.au/products/panettone-classico-1kg
9. Co/Lab Pantry
Brunetti's 8 piece signature Macaron box filled with irresistable hand made macarons.
$34.90
www.colabpantry.com.au/products/mixed-macarons-12-pack
10. The Gift Socety
Personalised Christmas Bauble – Single
$9
www.thegiftsocietymelbourne.com.au/collections/boxed-gifts/products/personalised-christmas-bauble-single
11. Co/Lab Pantry
COFFEE: HOW TO BUY IT, HOW TO BREW IT BY JASON SCHELTUS
$27
www.colabpantry.com.au/products/coffee-how-to-buy-it-how-to-brew-it-by-jason-scheltus
12. Co/Lab Pantry
Four Pillars Negroni Marmalade
$10
www.colabpantry.com.au/collections/all/products/breakfast-negroni-marmalade
13. CAMELIA 
GLOSS & CO Nail polish set
$59.00