Well, it's that time of year again – decorated trees, colourful lights, Mariah Carey and Michael Bublé playing on repeat and of course the challenge of finding the perfect gift.
From the most stylish to the most delicious and some of the best experiences around – I've got you covered.
So here's my pick for the best gifts this Christmas …
(*All links available to select below)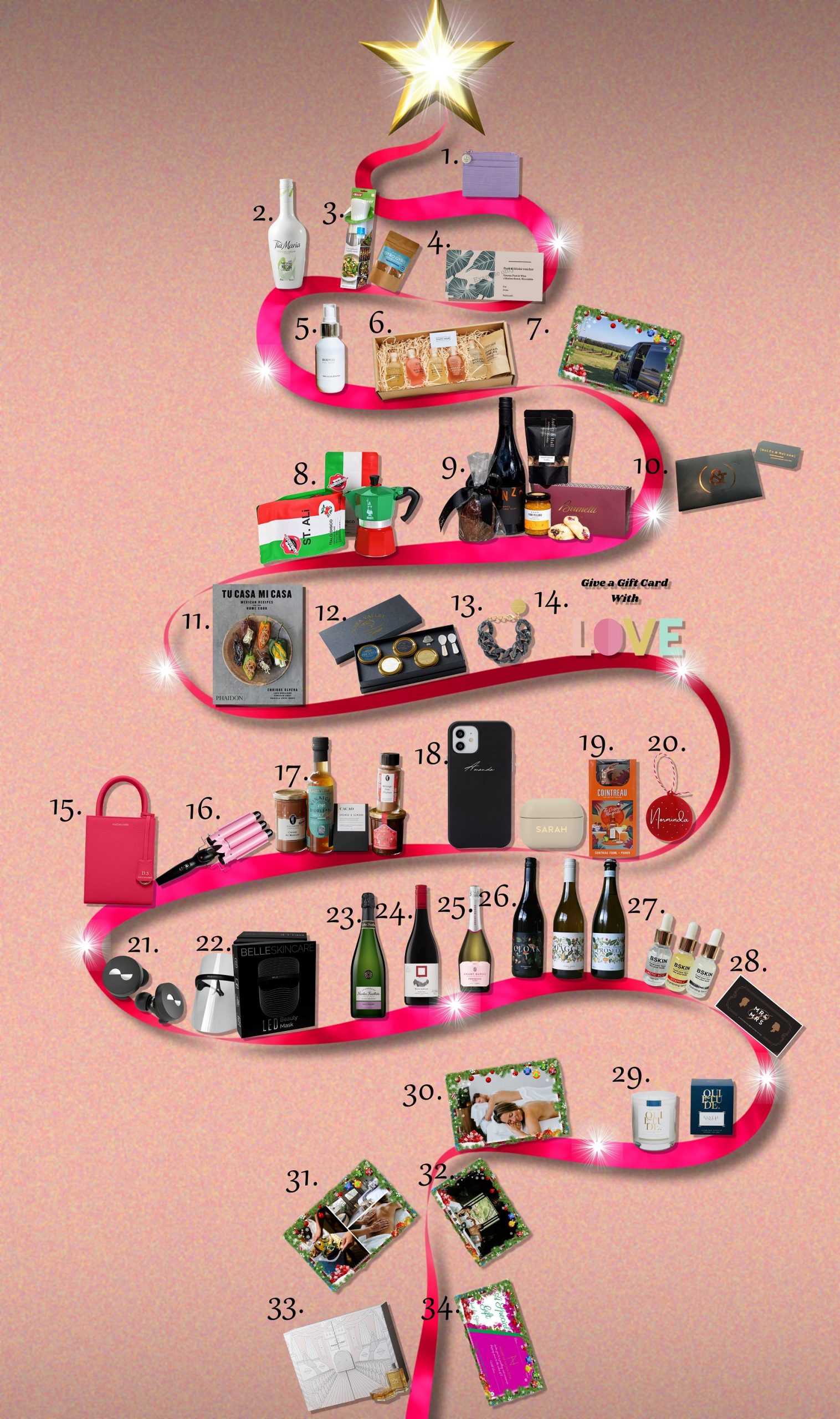 1. Odeya Boutique – URBAN STATUS HUNTER MINI CARD HOLDER | LILAC – $29.95
2. The Little Gift Loft Merry-Matcha Edition – $109.95
3. Dezi's stocking filler – Includes a decor refillable oil spray bottle, plus one seasoning of choice.- $20.95
4. Comma Food & Wine Voucher – Email to purchase hi@wearecomma.com.au. – From $50.00
5. BODYCO. Tan Accelerator – $49.00 – Code: *COFFEES10 for 10% off
6. Happy Hour Cocktails Co Custom Cocktails Sampler – $76.00 (get it in a bespoke gift box for an extra $35)
7. Elevate Wine Tour – From $160 & Elevate Wine Store – From $49.00
Elevate Wine Tour are excited to be running tours again and can't wait to host you! When booking, make sure you mention Coffees and Style and we'll throw in a complimentary cheese platter to enjoy on the day.
Elevate Wine store focuses on local wines and gifts from the Mornington Peninsula.
Use code COFFEESANDSTYLE for 10% off all wine and gift packs.
Free delivery for all Melbourne metro customers.
8. ST. ALi THREE-CUP STOVETOP × ITALO DISCO – $ 70.00
9. + Co-Lab Pantry SEASON STAPLES – $85.00
10. Wolfe & Malone Gift Voucher – From $50.00
11. + Co-Lab Pantry TU CASA MI CASA – $65.99
12. Yarra Valley Caviar Gift Boxes – From $45.00
13. Odeya Boutique – VANESSA BARONI CHUNKY BRACELET | BLACK MARBLE – $119.00
14. Kathryn by Kathryn Carter Gift Card  – From $25.00
15. MAISON de SABRÉ The Mini Tote – $429 to $449
16. The Babe Life Beach Babe Ceramic Waver 32mm – $69.99
17. The French Providore COFFRET GOURMAND – $79.50
18. GiftWorthy Personalised Phone & Airpord Cases – From $59.95
19. Cointreau Christmas Gift Pack – $56.99
20. THE GIFT SOCIETY MELBOURNE Personalised Christmas Bauble – Family 4pack – $24.00
21. NURATRUE wireless earbuds – $299.99
22. Belleskincare Co. Advanced 3.0 LED Beauty Mask™ | 3-in-1 Light Therapy – $129.99
23. Emperor Champagne, France's Number One Champagne, Nicolas Feuillatte – From $69.99
24. St Hallett Blockhead Shiraz Nouveau – $26.00
25. Grant Burge Prosecco NV and Prosecco Rosé – $25.00
26. Cloak and Dagger Wine Gift Pack – $80.00
27. BSKIN Mini Serum Trio – $80.00 
28. Mr & Mrs P Voucher – From $25
29. Odeya Boutique – LUXURY SOY CANDLE | AUSTRALIA BY QUIETUDE – $49.95
30. Peninsula Hot Springs – Harmony for two – $570
For those who need a little bit of pampering after the year that was. Gift yourself and someone special a 60-minute spa treatment and breakfast, lunch, or dinner of choice, served in Peninsula Hot Springs' adults-only Spa Dreaming Centre Dining Room. This gift includes bathing in both the Spa Dreaming Centre and Bath House and towel robe and locker hire.
31. Peninsula Hot Springs – Glamping, Dine and Spa for two – $1260
Are you looking for the ultimate gift to share with your loved one this Christmas? Relax and reconnect with a night spent in one of Peninsula Hot Springs' beautifully appointed glamping tents immersed in nature, all of site bathing including overnight bathing, a chef's selection dinner, breakfast and a relaxing 90-minute spa treatment – all for two people.
32. Peninsula Hot Springs – Private Sanctuary and Bathe for two – $350
Give the gift of togetherness this Christmas with your very own private sanctuary immersed in nature. Soak up the healing benefits of Peninsula Hot Springs' natural geothermal water as the aromas of essential oils and additives fill the air. This gift includes geothermal bathing in both the Spa Dreaming Centre and Bath House and towel, robe and locker hire.
33. 2021 Whisky Loot Advent Calendar – $329.00
34.  House of Nicholetta Gift Voucher – From $25.00