It's very rare to find one place that can be; a wonderful business express lunch, a cheeky afternoon Apertivo, an intimate delicious date night dinner and the perfect night cap – when you're just not ready to head home.
Yet Ripponlea Food & Wine managed to do just that – with a warm ambience and clever approach to not 1 but 3 delicious and inspiring menus.
From the moment you step into the restaurant, you feel like you've been transported to a 'New York' style hot spot (all that's missing is Frank Sinatra) there's a luscious cool vibe that turns any outing into an experience. The food is satisfies every taste with dishes that are fresh, punchy and just absolutely delicious!
The prawn sliders and eggplant chips are next level for an Apertivo and the chilli pasta is divine for dinner – but whatever you do, make sure you leave room for dessert – you will want to try the Bomba, trust me!
It's not hard to see why this gorgeous Ripponlea based hot spot has foodies booking their tables every weekend – and I have a feeling there's even more to come.
I had the pleasure of sitting down with one of the owners, Christo Christophidis to talk all things food, wine and what the future holds.
Ripponlea Food & Wine has certainly become a 'must try' in Melbourne's foodie scene, particularly since the renovation – are you able to tell us a little about the journey?
When we first opened back in 2014 Ripponlea Village didn't have much in way of food offerings (aside from Attica of course!), so it's been nice to grow up with the area and become part of the fabric.
We've always stayed true to our comfort food roots but the new bar area that we opened late last year now gives visitors the option of simply coming in for a drink and perhaps a nibble, which is where the Aperitivo Hour comes in. We can be somewhere to pop in before you head out, or we can be the destination.
The newly expanded restaurant now has 4 distinct dining areas, so we are also a great option for functions and private dining. We like to think of ourselves a neighbourhood favourite. Somewhere the locals always feel at home and would bring their visiting friends/family to show off what the suburb of Ripponlea has to offer.
What was the thought behind putting the menu together?
Comfort! Delicious, nostalgic food that you grew up eating but replicated with a fancy twist and beautiful seasonal produce.
We don't necessarily lean towards a particular cuisine but there is an Italian vibe to a lot of our dishes.
What is the 'must try' dish?
The eggplant chips are a signature. They've been on the menu from the very beginning. And you can't go past the choc bomb dessert for a bit of theatre. The prawn sliders are also quickly becoming a favourite and the perfect example of what we're trying to achieve foodwise – a little bit fancy without the fuss!
I love that there are additional element like the Apertivo sessions and Express Lunch – what can diner expect from both?
We're open from 11am and right through the day so the Aperitivo Hour option is perfect for when you're feeling a little peckish and it's not quite dinner time. We also offer this from 9.30-10.30pm on Thu/Fri/Sat nights as a great supper option.
Because who doesn't love a night cap! The menu includes all our small plate options which are great for sharing and in true Italian tradition – 2 for 1 Aperol Spritz
The Express Lunch offering is perfect for those who want to treat themselves during the week but don't necessarily have the time for long drawn out lunch. We have 2 courses for $35 or 3 for $42 – both include a glass of tap wine and tea or coffee.
You can select from starters, mains and dessert and there is something to please everyone. It's popular with locals, the office crowd and mums catching up while their kids are at school.
 How would you describe the vibe?
Our interior (designed by Black Milk Interiors) is definitely New York inspired.
The restaurant has that effortlessly cool Brooklyn feel with industrial elements such as exposed brick and funky wall illustrations. While the bar area is Manhattan chic with plush emerald velvet banquettes, brushed metal finishes, mirrors and geometric tiles.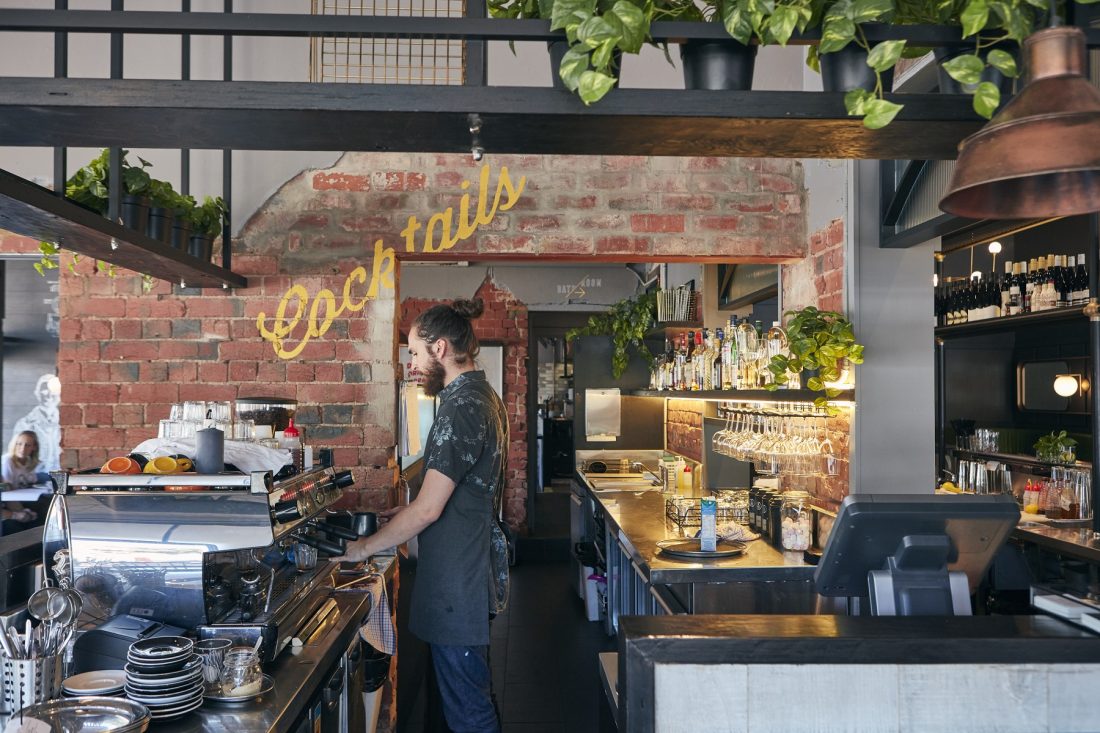 The vibe is relaxed but we really pride ourselves on top-notch service. Our FOH team are attentive, knowledgeable and friendly. We want people to feel at home and leave wanting to return again and again.
What does the future hold?
Really focusing on our bar offering and solidifying ourselves as a great drinking destination for locals. And also continuing to build on our functions side of the business and offsite catering packages.