Presented by David Jones this year's Good Food Month is hosting the Editor's Dinner, featuring the whos-who of the food industry in Australia, sharing their insights and anecdotes into the wonderful world of food over an incredible dinner with matched wines.
You've read their words and consumed their reviews, now you're invited to join National Good Food Editor Ardyn Bernoth and Chief Restaurant Critic Gemima Cody to chat about all things restaurants and dining.
Talking food is acclaimed chef Jason Barratt, head chef of Halcyon House's two-hatted restaurant Paper Daisy. Jason's CV is dotted with some of the country's best kitchens, including Attica, Stokehouse and Raes on Wategos. Joining him is executive chef Nick Mahlook, whose ocean-to-plate philosophy is keeping Melbourne's The Atlantic Group very busy (he's also Stokehouse alumni as well).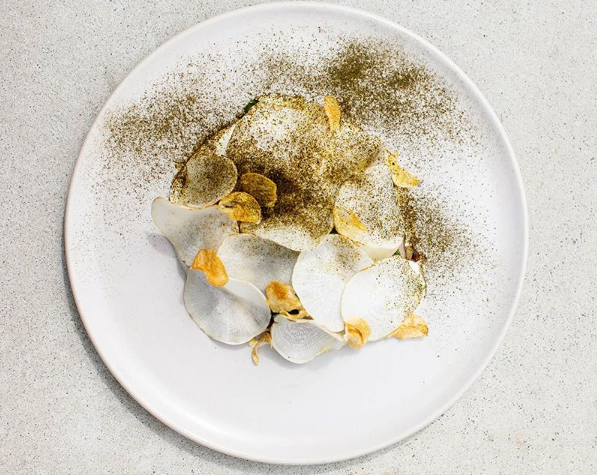 And finally, she's the woman behind the images that make your stomach rumble, industry photographer Nikki To will be sharing her anecdotes and food photography insights. From how to capture the perfect Insta shot, to creating timeless images that elevate dishes into food icons, you'll discover why Nikki is the photographer that top chefs like Peter Gilmore have on speed dial.
You'll feast on a divine four-course meal that has been prepared using the exacting standard that the best-of-the-best expect!
I have the pleasure of chatting to Nick Mahlook, who was kind enough to give a little glimpse into what diners can expect …
What is the inspiration behind the menu?
We wanted to showcase the style of food both of us are currently serving at our restaurants, and wanted to push the use of the lesser used seafood products as we are both strongly seafood focused chefs. With a focus on sustainability we want to do our bit to contribute to the great work people are doing in this field using some of Australia's amazing ethically sourced seafood.
Which dishes are you most excited to showcase?

The fennel and herb salad with smoked fish head broth is something Jason is excited to be showing this year. We slowly smoke the fish frames above an open fire for 2 days before making a subtle yet deep flavoured broth to dress the fresh and sweet herb salad.
Nick is excited about the celeriac slowly roasted in a deep, rich "fish jus" it gives so much complexity to a humble root vegetable and brings it to the next level. Making the "fish jus" from what some would call waste we can create a dish with it that is simple but has layers of deep flavour.
What gets you most excited about this particular event, being that it's such a collaborative process?
We both worked together as young chefs many years ago at Stokehouse restaurant before both leaving and working on our careers and have always wanted to cook together again. This event is the perfect setting for us to showcase what we have been working on all these years. Can't wait!
What do you think makes Australia's food scene, particularly in Melbourne so special?
We have the best produce to work with in Australia, especially the seafood we have access to which makes our job easy. Melbourne has such a strong food culture, and with events like Good Food Month it is only getting better every year.
Event Details
Date: Friday June 14th
Price: $170 + transaction fee
Location: 137 Buckhurst St
To book: www.goodfoodmonth.com/events/the-good-food-editors-dinner-presented-by-david-jones-food